Teddy Riley has made some of the most important American music in history. As a producer, the Harlem-born icon invented the genre of New Jack Swing, a layered and vibrant sound that fused rap and R&B so creatively that classics in his oeuvre—Heavy D & the Boyz's "Now That We Found Love," Keith Sweat's "I Want Her," Wreckx-N-Effect's "Rump Shaker," Michael Jackson's Dangerous—still sound fresh and peerless. As a singer and songwriter, he helmed two of the best groups of the '80s and '90s—the sensual rubdown that was Guy and the slightly bolder rendition in Blackstreet.
Though Riley's legacy is nearly unparalleled in American music—he rightly compares himself to Quincy Jones—he has kept himself and his music fresh by never resting on his laurels. In recent years, he has flipped his own script, moving to Seoul for a time to produce for massive K-pop stars like Girls Generation and Shinee. With each single, his production genius gleams.
Jezebel spoke with Riley in early May just before his conversation (above) with the veteran music journalist and DJ Jeff Mao, a lecture which was part of the Red Bull Music Academy festival in New York. In person, Riley's demeanor is welcoming, self-assured, and a little magic; his creativity sparkles off him, and he seems to know it, but his confidence does not veer into arrogance. Our conversation was breezy and went wherever he wanted to take it; this interview has been lightly condensed and edited for clarity.
---
JEZEBEL: One of the things that strikes me most is that you have consistently made sexy music for and about women that is not condescending. It leaves room for everyone to just get a little freaky. What is your perspective and where are you coming from with that?

G/O Media may get a commission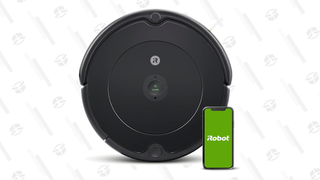 35% Off Black Friday Deal
iRobot Roomba 694 Robot Vacuum
TEDDY RILEY: Most of all, I like to make happy music, music that's going to move the crowd whether it's emotional or funny or it's fun. That's what New Jack Swing is about; it's about moving the crowd and getting everybody into the music without discrimination. It's for everybody, that's what this genre is about. And when you've got something for everybody, it's like the lotto or something; everybody's gonna play it. Same thing with New Jack Swing. That's what my music set out to be. I make music for women... but for everybody.
With New Jack Swing, it's so layered; there can be so much joy in just a kick drum. What's your producing philosophy?
Well, there are so many ways to create music, and I don't have a specific way. It's how I feel at that time. If I feel like making music on a table [drums on table], I'll make music on a table; I'll take my iPhone, record it, and start from there. I'll take that actual recording and put it in my sequencer, and if I don't match that, it's not a great song.
So you're actually making field recordings to put in your music?
Yeah, I have a whole Soundcloud with a bunch of ideas of things that I put together because I have to get it right. It comes from here first [points to heart] and then, it transcends to the instruments. That's how I make music.
Um, is that a public Soundcloud that I can listen to?
No, it's a private one! Because it's just me goofing off acting funny. You'll hear a screech or something and be like, what's happening, is he hallucinating? So I keep it private but it will come out one day—my ideas of how I came up with "No Diggity" or how I came up with "Rump Shaker."
"Rump Shaker" was a long process, we had it eight different ways, and my rap was different from the final rap. I got my hook from the rap, the one that was prior to the one that Pharrell wrote for me. I took it out and made it the hook and took Pharrell's rap and just flowed with it. We had it eight different ways.
So you have other versions?
Yeah!
I mean, I would pay money just for your Soundcloud sketches so... think about releasing that in the future!
[Laughs] But I'm gonna release it for free. I think what's been keeping my legacy going is passing it down to these kids, because some of them don't know, and they really wanna know. I feel like I'm following in the shoes of Quincy Jones, and I'm still doing what I love to do.
You have had such a long career and you've maintained your relevance throughout all of it, which is difficult to do, but it seems like you've been able to do it by sheer being yourself in your music. You don't pander to trends.
Not at all. Even though the music that's out today, we've been doing a long time ago. We've been using the 808 [synthesizer] for a long time, before these kids were born. So it's new to them, it's old to us. But I don't judge, because that's how I started. I started in rap first. Starting in rap, and then going into R&B was a crazy transition for me, but it just kept me going. I was just making rap songs and putting chords and things in it and making it into an R&B song, creating this genre. It wasn't called that before I was doing all this stuff.
I am very well aware! And that time, there was such a line between rap and R&B, for so long, even after New Jack Swing's heyday. How do you think your R&B music in Guy and Blackstreet came back around and changed rap? How did it start shifting?
Well, coming from playing with a band into totally producing everything in the home—that right there, putting rap and singing together was my style. That's the style of New Jack Swing, so a lot of these kids don't know that they're still doing New Jack Swing, technically, that style. Which is okay! But it transcended into this rap-singing when I started a song that I did on the Blackstreet album Level II, and it's called "She's Hot." I used the Autotune—before the T-Pains, you know, because I was the first endorser for [the brand] Serato [which makes the Autotune function], the very first—I felt it was very robotic sounding and being that I played [sound effects devices] vocoder and talkbox, it was close to both. So I knew that if I didn't do it first, people would say I'm copying off of [producer] Rodney Jerkins or I'm copying off of T-Pain. But a lot of people don't know that was copied off of Peter Frampton and Roger Troutman and Johnny "Guitar" Watson and Sly, Bootsy, they all did the talkbox first.
But literally, Roger Troutman came to my studio to visit me. When Roger comes anywhere, there's a reason. His reason for coming was to pass the torch; he said, "I didn't come here just to visit you. I came here to tell you how great you are with that instrument, and that you need to continue this. You pronounce your Talkbox language better than anybody. Better than me." When he told me that, I didn't think much of it... until I started making more records and I was like, I gotta live up to what this guy said I am! So I wound up just doing it my way, not his way, but also paying homage. When I saw Peter Frampton, when I saw Roger doing it, I said I gotta do it. So when I did it, I'd already been doing vocoder; I did it with the first Keith Sweat album.
Praise.
Just doing that, I had to continue and learn more outside of the vocoder, the talkbox. Outside of the vocoder, I used the [harmonics effects device] Vocalist, that's what I did on the first Blackstreet album—"Before I Let You Go," "Joy," those harmonies are actually the Vocalist. So on a technical aspect, those are the instruments that cover it all, technology and music.
Do you think that using that kind of technology keeps your music fresh?
Yeah, just don't do what anybody do. Try new things, try stuff that doesn't make sense. I don't see a lot of people trying new things. They're going back. It's not bad; it's good to go back, reach into the archives, and let something influence you. But at the same time, who's innovative? I'm happy to have paved the way for the Pharrells, who I discovered, and Rodney Jerkins, the people who have followed me.
Is that why you got into doing the K-Pop stuff?
K-pop! Oh my god. I love talking about K-pop. I feel like I'm a cat in the business, with nine lives. I'm only on my fifth, and K-pop is number five. K-pop has been a savior in music for me because of the direction, the idea of having your own music style. What I did with K-pop, I brought my genre to it—I just merged New Jack Swing with K-pop, because they were following the New Jack Swing style anyway.
So much '90s and early, mid 2000s K-pop is just straight up you.
Yeah, and they've been really, really good for me and good to me. It's so good that I moved out there for two years. It's like going to school. Them kids get credit for doing their music and being in the music business, and it's really like bootcamp, slash militant. You get to be who you are but at the same time you get to follow your brand. And you have to be that brand, and with that brand, in order to be in that group. Just looking at the whole culture of how they do it, they've taken artist development to another level, having it as an actual school. Which I really feel we need so bad in America. It's so clever, the most genius way of doing things where it involves their parents, too, who sponsor them because they know they're gonna make their money back. That's why the music is so clean; the parents don't want their kids being all rugged and rough!
Going back to the lady question, what do you think is the most sensual song you've ever made?
One that stands out, that covers it all, is "Remember the Time." One of the biggest songs I've ever made. So... yeah.
Oh... haha. Yeah!