In a Business Insider editorial published Sunday evening, NBA phenomenon and all-around delight LeBron James enthusiastically endorses Hillary Clinton for president.
James, who plays for the Cleveland Cavaliers, hails from Northeast Ohio and has become one of the swing state's most influential natives. His endorsement of Clinton could very well have a meaningful impact on how the state votes this November.
Referencing his work with the LeBron James Family Foundation, James emphasizes the importance of providing educational and career opportunities for youths who might not otherwise have access to them. And as he explains, his investment is personal:
"As a kid, I didn't have much money. It was just my mom and me, and things were rough at times. But I had basketball. That gave me a family, a community, and an education. That's more than a lot of children in Akron can say. There are a lot of people who want to tell kids who grew up like me and looked like me that they just don't have anything to look forward to.

That's dead wrong. And that's why I came back to Cleveland to continue my...mission. I am determined to make sure my kids in Akron have what they need to become their best selves. Opportunities, a support system, and a safety net for kids in poverty or kids in single-parent households shouldn't be limited to those lucky enough to be blessed with athletic talent."

Clinton's platform, James asserts, reflects the same emphasis upon youth empowerment and attention to marginalized communities that he has attempted to bring to his charity work:
"I...tell all my kids how important it is that they give back to the community. Because if basketball has taught me anything, it's that no one achieves greatness alone. And it takes everyone working together to create real change.


When I look at this year's presidential race, it's clear which presidential candidate believes the same thing. Only one person running truly understands the struggles of an Akron child born into poverty. And when I think about the kinds of policies and ideas the kids in my foundation need from our government, the choice is clear.

That candidate is Hillary Clinton."
James then gestures to his relationship with President Obama and applauds his work over the course of his presidency. Confident that Clinton will continue what President Obama has set in motion, James cites her involvement in bettering public schools and making health care and higher education more accessible.
G/O Media may get a commission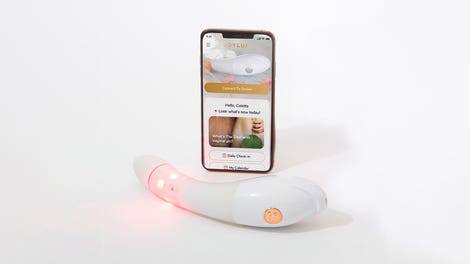 $50 Off
Joylux vFit Gold Device
But in his conclusion, James shifts to a more somber note, implying that the next president will be tasked with confronting the nation's epidemic of police brutality. It is up to the government, he suggests, to battle the systemic racism that leaves so many Americans at risk.
"Finally, we must address the violence, of every kind, the African-American community is experiencing in our streets and seeing on our TVs. I believe rebuilding our communities by focusing on at-risk children is a significant portion of the solution. However, I am not a politician, I don't know everything it will take finally to end the violence. But I do know we need a president who brings us together and keeps us unified. Policies and ideas that divide us more are not the solution. We must all stand together — and Hillary is running on the message of hope and unity that we need."

With numerous references to Ohio and the need for social reform within the state, James's target audience is clear. Indeed, this op-ed will also be published in print in Monday's Akron Beacon Journal.
According to Business Insider, Trump currently boasts a small lead in James's home state. We must wait to see whether James's editorial will assist in turning the tide in Clinton's favor. In the meantime, as you might expect, Twitter is rejoicing.
Clinton has already leapt at the endorsement:

And some wonder whether Trump will be taking to Twitter at 3 a.m. in yet another blustering fury:
I'm sure LeBron is extremely nervous about what Mr. Trump might have to say about him.