So you know you're looking at two very different styles of dress, here. But precisely what decades? When did that waistline move back down? What details are the defining touches of their era? How long were women actually walking around with bustles on their backsides?

Lydia Edwards's How to Read a Dress is a detailed, practical, and totally beautiful guide to the history of this particular form of clothing from the 16th to the 20th centuries. It tracks the small changes that pile up over time, gradually snowballing until your great-grandmother's closet looks wildly different than your own. As always, fashion makes for a compelling angle on history—paging through you can see the shifting fortunes of women in the Western world as reflected in the way they got dressed every morning.
Of course, it'll also ensure that the next lackadaisically costumed period piece you watch gives you agita, but all knowledge has a price.
I spoke to Edwards about how exactly we go about resurrecting the history of an item that's was typically worn until it fell apart and then recycled for scraps; our conversation has been lightly trimmed and edited for clarity.
The title of the book is How to Read a Dress. What do you mean by "reading" a dress?
G/O Media may get a commission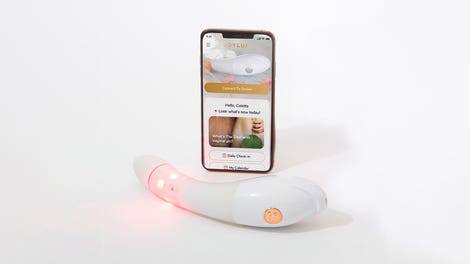 $50 Off
Joylux vFit Gold Device
Basically what I mean is, when you are looking at a dress in an exhibition or a TV show, reading it in terms of working out where the inspirations or where certain design choices come from. Being able to look at it and recognize key elements. Being able to look at the bodice and say, Oh, the shape of that is 1850s, and the design relates to this part of history, and the patterning comes from here. It's looking at the dress as an object from the top down and being able to recognize different elements—different historical elements, different design elements, different artistic elements. "Read" is probably the best word to use for that kind of approach, if that makes sense.
It must send you around the bend a little bit, watching costume adaptations where they're a bit slapdash. The one I think of is the Keira Knightley Pride and Prejudice, which I actually really enjoy, but I know that one's supposed to have all over the place costuming-wise.
Yeah, it does. I mean, I love the BBC Pride and Prejudice one, because they kept very specifically to a particular era. But I can see what they did with the Keira Knightley one—they were trying to keep it 1790s, when the book was written, as opposed to when it was published. But they've got a lot of kind of modern influences in there and they've got a lot of influences from 30, 40 years previously, which is interesting to an audience and gives an audience I suppose more frames of reference, more areas to think about and look at. So I can see why they did that. But it does make it more difficult if you're trying to accurately decode a garment. It's harder when you've got lots of different eras going on there, but it makes it beautiful and interesting for an audience.
The guide spans the 16th to the 20th century. Why start with the 16th century?

Well, partly because it's where my own interest starts, in terms of my research and the areas I've looked at. But more importantly in terms of audience interest, we get a lot of TV shows, a lot of films in recent years—things like The Tudors—that type of era seems to be something that people are interested in. That time is very colorful and very interesting to people.
And also because in terms of thinking about the dress as garment, obviously people wore dresses in medieval times, but in terms of it being something that specifically women wore, distinct from men's clothes, I really think we start to see that more in the 15th, 16th century onwards.
Where do you go to get the historical information to put together a book like this? What do you use as your source material? Because obviously the thing about clothing is that it has to stand up to a lot of wear and tear and a lot of it doesn't survive.
This is the other thing about the 16th century stuff—there's so little surviving. That's why that chapter was a lot shorter and also that's why I used a lot of artworks rather than surviving garments, just because they don't exist in their entirety.
But wherever possible, you go to the garments themselves in museum collections. And then if that's proving to be difficult, you go to artworks or images, but always bearing in mind the artist will have had their own agenda, so they won't necessarily be accurate of what people were actually wearing. So then you have to go and look up written source material from the time—say, diaries. I like using letters that people have written to each other over the centuries, describing dress and what they were wearing on a daily basis. Novels can be good, as well.
Also the scholarship that has come before, the secondary sources, works by people like Janet Arnold, Aileen Ribeiro. Really well researched scholarly books where people have used primary sources themselves and put their own interpretation on it can be really, really helpful. Although you take some of it with a pinch of salt, and you put your own interpretation on there, as well.
But always to the dress itself wherever possible.
What are some of the challenges you face, or the constraints on our ability to learn about the history of fashion?
Well, the very practical issue of trying to see garments—some of them I did see here in Australia, but a lot of them were in the States, in Canada, in New Zealand, so it's hard to physically get there to see them. And often, even when you can get to the museum, garments are out on loan to other exhibitions or other museums. That's a practical consideration.
But also, especially when I'm talking about using artworks and things, which can be really helpful when you're researching, but as I've said they do come from a place where there's more interpretations and more agendas. So if someone's done a portrait and there's a beautiful 1880s dress in it, that could have been down to the whims of the person who was wearing it, or the artist could have changed significantly the color or style to suit his own taste. Then you have to do extra research on top of that, to make sure that what you are seeing is representative.
It's a fascinating area. There's a lot of challenges, but for me, that's what makes it really exciting as well. But it's really that question of being able to trust sources and knowing what to use and what not to use in order to make things clear for the audience.
Obviously many of these dresses were very expensive and took a lot of labor and it wasn't fast fashion—people didn't just give it away or toss it when it fell out of season. A lot of times, you did was you remade it. When you're looking at a dress that's been remade, how do you extract the information that you need as a historian out of it?
I love it when something like that comes up. I've got a couple of examples in the book.
Well, it can be quite challenging, because often when you're first looking at a piece it's not obvious that it's been remade. But if you're lucky enough to look inside it and actually hold it and turn it round different angles, there'll be things like the placement of a seam, or you'll see that the waist has been moved up or down according to the fashion. And that's often obvious when you're looking inside. You can see the way the skirt's been attached. Often you can tell if a skirt's been taken off and then reattached using different pleats, different gatherings; that can give you a hint that it's then been remade to fit in with a different fashionable ideal.
One of the key ways is fabric. You can often see, especially in early 19th century dresses when they've been made of these beautiful 18th century silks and brocades. That's nice because it's the first obvious clue that something's been remade or that an old dress has been completely taken apart and it's just the fabric that's been used. I find it particularly interesting when the waist has been moved or the seams have been taken off or re-sewn in a different shape or something like that. It can be subtle but once your knowledge base grows, that's one of the most fascinating areas that you can look at.
You page through the book and you watch these trends unfold and there are occasional sea changes will happen fairly quickly, like when the Regency style arises. But how much change year-to-year would a woman have seen? How long would it take, just as a woman getting dressed in the morning, to see styles just radically alter? Would you even notice?
Well, this is the thing—I think it's very easy, when we're looking back, to imagine that in 1810 you'd be wearing this dress and then all the frills and the frouf would have started to come in the late 1810s and the 1820s, and suddenly you would have had a whole new wardrobe. But obviously, unless you were the very wealthiest women and you had access to dressmakers who had the absolute newest patterns and newest fabrics then no, you wouldn't have seen a massive change. You wouldn't have afforded to be able to have the newest things as they came in. You would have maybe remade dresses to make them maybe slightly more in line with a fashion plate that you might have seen, but you wouldn't have had access to new information and new fashion plates as soon as they came. To be realistic, there would have been very little change on a day to day level.
But I think also, for us now—it's hard to see it without hindsight, but we feel like we're fairly fluid in wearing the same kind of styles, but obviously when we look back in 20 years, we'll look at pictures of us and see greater changes than we're now aware. Because it happens on a slow pace and it happens on such a subconscious level in some ways.
But actually, yeah, it's to do with economics, it's to do with availability. People living in towns where they couldn't easily get to cities—if you were living in a country town a hundred miles away from London, there's no way that you would have the resources to see the most recent fashion plates, the most recent ideas that were developing in high society. So it was a very slow process in reality.
If you have a lot of money you can change out your wardrobe quicker and wear the latest styles. And so the wealthiest people, their clothes were what in a lot of case stood the best chance of surviving and being in modern collections. So how do we know what working women would have worn or what middle class women would have worn?
Yeah, this is hard. I do have some more middle class examples, because we're lucky in that we do have quite a few that have survived, especially in smaller museums and historical collections, where people have had clothes sitting in their attics for years and have donated them, just from normal families over the years.
But, working women, that's much more difficult. We're lucky from the 19th century because we have photographic evidence. But really a lot of it will come down to written descriptions, mainly letters, diaries, not necessarily that the people themselves would have kept, but there's examples of people that worked in cotton mills, for instance, and people that ran the mills and their families and wives and friends who had written accounts of what the women there were wearing. Also newspaper accounts, particularly of people who would go and do charity work and help the poor. They often wrote quite detailed descriptions of the people that they were helping.
But in terms of actual garments, yeah, it's very difficult. Certainly 18th century and before, it's really, really hard to get hold of anything that gives you a really good idea of what they wore. But in the 18th century—it's quite interesting, because then we get examples of separate pieces of clothing worn by the upper classes, like a skirt with a jacket, which was actually a lower middle class style initially and then it became appropriated by the upper classes. And then it became much fancier and trimmed and made in silks and things. So then, we can see the inspiration of the working classes on the upper classes. That's another way of looking at it, although of course that's much more problematic.
It's interesting how in several cases you can see broader historical context, or other stories happening through clothes. Like you point out that the rise of the one-piece dresses is due to the rise of mantua makers, who were women who were less formally trained who were suddenly making clothing. Are there any other interesting stories like that, that you noticed and thought were really fascinating?
There's a dress in the book that a woman made for her wedding. I think she was living on her own, or she was living with a servant and her mother or something. She made the dress and then turned up to her wedding and traveled quite a long way to get there, and when she arrived, the groom and all the guests weren't there. There was nobody. So she went away and came back again a week later, and everyone was there. And the reason that no one was there before was that a river had flooded in the direction that they were all coming from. She had obviously no way of finding out about this until after the fact, and we have this beautiful dress that she spent ages making and had obviously gone to a lot of effort to try and work out what the latest styles were, to incorporate it into her wedding dress.
Things like that, I find really interesting, because they talk so much about human and social history as well as fashion history, and the garment is the main way we have of keeping these stories alive and remembering them and looking into the kind of life and world these people lived, who made these garments.
Over the centuries, how does technology affect fashion? Obviously, we think of the industrial revolution as really speeding up the pace of fashion. But are there other moments in the history of fashion where technology shapes what women end up wearing?
One example is where I talk about the Balenciaga dress from the early 1950s—with a bubble hem and a hat and she would have worn these beautiful pump shoes with it—with the introduction of the zipper. Which just made such a huge difference, because it suddenly meant you'd have ease and speed of dressing. It meant that you didn't have to worry about more complicated ways of fastening a garment. I think the zipper made a massive change and also in terms of dressmaking at home, it was a really quick and simple way that people had of being able to create quite fashionable styles on a budget and with ease and speed at home.
Also, of course, once women's dress started to become simpler and they did away with the corset and underwear became a lot less complicated, that made dressing a lot easier, that made the introduction of the bias cut and things that sit very closely to the natural body much more widely used and much more fashionable.

I would say the introduction of machine-made lace as well, particularly from the late 19th, early 20th century onwards where it was so fashionable on summer dresses and wedding dresses. It just meant that you could so much more easily add this decadent touch to a garment, because lace would have been so much more expensive before then and so time-consuming to make. I think that made a huge difference in ordinary women being able to attain a kind of luxury in their everyday dress.
That actually makes me think of something else I wanted to ask you, which is you point out in your intro the way we casually use this word "vintage." I think about that with lace. Lace is described as being a "vintage" touch but it's very much this question of when, where, who, why—it's a funny term when you think about it, the way we use it so casually to describe so much.
Oh, yes. It's crazy. I used to work in a wedding dress shop and I used to make historically inspired wedding dresses and things. And brides used to come in and say, "Oh, I want something vintage." But they didn't really know what they meant. Usually what they meant is they wanted something with a bit of lace on it, or with some sort of pearls or beading. I think it's really inspired by whatever is trending at the time. So, you know, Downton Abbey became vintage. I think '50s has always been kind of synonymous with the word vintage. But what it means is huge, because it seems to cover so many different eras and styles and embellishments. That's something I'm really interested in. It's a bit frustrating and it's also really fascinating how it's become such a byword for something that's a bit different and a bit quirky, maybe? I think it says quite a lot about what people think about historical fashion and how much it impacts their own clothing choices today.
What's interesting is that your book encourages you to think about fashion and the history of fashion in terms of specific developments and touches and innovations and ways of doing things, and it makes you realize that when people say "vintage," they don't mean that. They mean this general quirky nostalgic aura.
Exactly, and I don't think a lot of the time when somebody says vintage, they even mean you existing clothes, like an existing '40s blouse or a '50s dress. They mean a kind of idea or sort of feeling more than that, which is really interesting.
Do you have a favorite era or particular detail or type of dress?
I'd probably have to say the Regency empire line dress for me, partly because, I mentioned the Pride and Prejudice from 1995 before, and I watched that when I was about 11 or 12. I'd always been interested in costume and fashion but I think that's where it really kicked off for me. I just fell in love with the style. When we got married I had a dress that was based on that style. So for very personal reasons, it's something that I've always loved.
Also I really love the bustle era, sort of the 1870s, '80s, just because it's such a crazy style and the mechanics of it are so interesting from a technical point of view and the way the crinoline went away and then suddenly you've got this massive, massive fabric at the back of the skirt. So what do you do with it? You roll it up into a bustle and make that part of a woman's body really prominent. I just find it so fascinating. And it can be incredibly beautiful as well, the skills that they used to create this drapery.
You mention the bustle—I noticed a couple of the pieces in the book are from the Fashion Museum in Bath. I love that museum, and they have where you can try on the hoop skirts, and I thought that was so much fun because I had never thought about the physicality of wearing one of those big Victorian dresses but it changes your whole way of existing in space. 
Totally. The way that you move and the space that you are taking up affects the way that you communicate with other people and of course it makes you stand differently, doesn't it? So you're forced to walk in a much more considered, precise way. I think more museums should supply that kind of thing to give people a feel for what it was like to wear the things that they're looking at.
But you point out in your book that the hoop skirt was probably in many ways more comfortable than the styles that had immediately preceded it. Because you didn't have to wear as many petticoats. Right?
Definitely. I've got a quote there from I think it was Charles Darwin's granddaughter, who wrote a book called Period Piece. She talks to her aunt and her aunt says, oh, you know, I've never been as comfortable since crinolines went out. Before, you had these layers and layers of petticoats which would have been so difficult to maneuver and wash. And then after the crinoline you get the bustle, which, again, was more layers of petticoats but also just much harder to get used to, even though there were technical innovations which helped. So I think for women probably the era of the crinoline was one of comparative freedom, although for us that feels really strange to think of it that way. I think it would have been quite a relief in some ways.
Can you explain what the deal is with the s-bend corset? I don't understand how it came to be popular or why. I'm just befuddled by them.
And hence it didn't last that long, as well.
It's a bizarre one. It came up in line with changes in dresses that were happening—so you have the pouter pigeon blouse-y kind of effect, and having a separate blouse and a separate skirt around that kind of time, late 1890s, early 1900s. That shape of corset in terms of the aesthetic of the time really fitted with the looks that were developing in blouses and with long flared skirts, the kind of umbrella skirt that kind of flared out from the legs. They developed and the corset developed popularity alongside them.
But it, yeah, it's really bizarre, and it was something that dress reformists and people started to get upset about and they realized how unhealthy it was. So it didn't last, and I think people knew at the time that it was kind of extreme. You can feel the caricatures of women kind of toppling over because they've got this kind of imbalance. Yeah, it's very strange. It's one of those areas of fashion history that appeared for a few brief minutes and then popped away again.
I wouldn't want to wear stays every day, or one of those long-line corsets, but I understand the theory. But every time I look at an s-bend corset I just scratch my head.
I know, I know, I feel the same. And if they fit well it shouldn't be uncomfortable, necessarily, if you're not lacing it too tightly. But with that one I think that must have always been really uncomfortable. I can't imagine it. And especially if you were pregnant and people wore it when they were pregnant kind of loosely laced. It's like, oh, god. No, no, no.