A new lawsuit against Revlon filed by a former employee claims not only that he was the target of bias and unwarranted firing, but that CEO/President Lorenzo Delpani made consistent racist comments against Blacks, Jews, and Americans.
Alan Meyers, the company's former chief scientist, claims Delpani said that he could "smell a black person when he entered the room," that Jews "stick together," and that America is a "small-minded" and "dirty" place that is becoming more and more "like Isis." Meyers was fired on December 10 after raising safety concerns that Colomer Group, a Spanish cosmetics company acquired by Revlon was using raw materials that did not meet regulatory standards. The suit alleges that Delpani told Meyers to keep quiet about his safety concerns so that the company could claim "plausible deniability." Colomer Group was acquired by Revlon for $660 million in 2013; Delpani was its CEO at the time, and was appointed to his Revlon post concurrently.
Meyers, who is Jewish and American, also claims that Delpani demeaned him in front of fellow employees, almost all of whom were Italian or Spanish. New York Post:
In the suit, Meyers claims Delpani's tirades and tormenting eventually became outright bullying.
Meyers described one incident in October, when he allegedly was forced by Delpani to act as a human easel during a high-level meeting.
Meyers says he was instructed to hold a whiteboard, which covered his entire upper torso and head, for approximately 30 minutes.

He saw this as a demeaning gesture, he says, especially since he was supposed to be part of the leadership team.

Stress from the ordeal forced Meyers into the hospital with chest pains, the lawsuit says. He said he was fired on Dec. 10.
Delpani, who is Italian-born, became Revlon's CEO in 2013, and allegedly hated living in America, "saying he couldn't wait to get back to a 'real' country," reports the Daily Mail. The suit claims his comments about black people were made after a meeting in South Africa, and that his anti-Jewish comments were made about Ron Perelman, the billionaire entrepreneur who is a majority shareholder in Revlon (pictured above at left, with Olivia Wilde and Delpani at right). The Post:
Delpani, a native of Italy, told Meyers he was "shocked" there weren't more Jews at the company because the biggest shareholder is Ron Perelman, a prominent Jewish American, according to the suit.

"Jews stick together," Delpani quipped. He also allegedly added that "thankfully," Perelman "is not like that anymore."
G/O Media may get a commission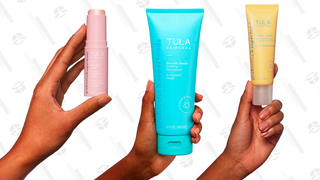 Revlon's spokesperson Kiki Rees dismissed Meyers as a disgruntled employee, that he "repeatedly demonstrated critical lapses in judgment and failed to perform at the high standard we demand of our employees." Meyers is seeking punitive and compensatory damages.
In November, Revlon adopted the tagline "Love is on." Delpani told the New York Times he came up with the idea after realizing the word Revlon could be... an anagram.
"I broke up 'Revlon' and found, inside 'Revlon,' is scrambled the word 'love,' " Mr. Delpani said, adding: "Inside the heart of Revlon is 'love.' The brand talked to me; the brand said, 'Look, love.' "

"From now on, we intend to be on a mission," Mr. Delpani said, "inspiring all the shades of love."
All the shades—except, allegedly, Black, Jewish, and/or American.
Image via Getty.