Olivia Caceras, an undocumented migrant mother, was reunited with her 14-month-old son after months of forced separation only to find him covered in "dirt and lice."
This is just one horrific account from an over 1,000 page pending lawsuit that 17 states and the District of Columbia have filed against the Trump administration's immigration policy.
PBS Newshour shared Caceras' testimony Thursday night, and it's enough to make your skin crawl: "The child continued to cry when we got home and would hold on to my leg and would not let me go. When I took off his clothes, he was full of dirt and lice. It seemed like they had not bathed him the 85 days he was away from us."
G/O Media may get a commission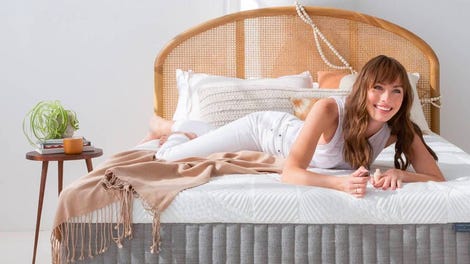 Sleep Sale
Sleep Sale - Brentwood Home
The sprawling lawsuit includes other nauseating stories from victims of the Trump administration's "zero tolerance" initiative at the border, which forced thousands of children to be separated from their families at the U.S.-Mexico border. For example, detainees say they were called racial slurs and witnessed guards refer to immigrants being held in detention facilities as "stupid."
This verbal and emotional abuse was also evident in another story from the lawsuit, as told by a migrant mother separated from her child. From PBS Newshour:
"One of the officers asked me in Guatemala," her home country, "'Do they celebrate Mother's Day?' When I answered yes, he said, 'Then Happy Mother's day,' because the next Sunday was Mother's Day. I lowered my head," she wrote, "so that my daughter wouldn't see the tears forming in my eyes. That particular act of cruelty astonished me."
Additionally, there are also claims that the holding facilities are incredibly cramped—15 by 15 feet cells holding 30 to 50 adults and the occasional child with one toilet to share—and are "so cold that [migrant adult and children] had to huddle together on cement floors."

As the federal court mandated deadline for the government to reunite the separated families looms and problematic DNA testing gets underway, we're guaranteed to hear more stomach churning tales.