A tenured professor at Florida Atlantic University, who was fired after claiming Sandy Hook was a hoax and then sued for his job back, has had portions of his lawsuit dismissed. The professor, James F. Tracy, writes a blog claiming Sandy Hook never happened, and when Sandy Hook parent Lenny Pozner asked him to take down photos of his son Noah, the youngest victim, Tracy responded with a certified letter asking him to prove the child ever existed.
In December of last year, Lenny and Veronique Pozner wrote an anguished op-ed in Broward's Sun-Sentinel, detailing what they said was a long pattern of harassment by Tracy, and criticizing the attention paid to him by the media, which "elevated his status and fame among the degenerates that revel in the pleasure of sadistically torturing victims' families." The Pozners detailed some of the harassment in wrenching detail:
In fact, Tracy is among those who have personally sought to cause our family pain and anguish by publicly demonizing our attempts to keep cherished photos of our slain son from falling into the hands of conspiracy theorists.

Tracy even sent us a certified letter demanding proof that Noah once lived, that we were his parents, and that we were the rightful owner of his photographic image. We found this so outrageous and unsettling that we filed a police report for harassment. Once Tracy realized we would not respond, he subjected us to ridicule and contempt on his blog, boasting to his readers that the "unfulfilled request" was "noteworthy" because we had used copyright claims to "thwart continued research of the Sandy Hook massacre event."

His blog post was echoed dozens of times on conspiracy websites, including one maintained by Tracy's colleague and frequent collaborator James Fetzer, a Holocaust denier who expounded upon Tracy's article by stating that our refusal to respond to this obscene ultimatum "implies that Noah did not die at Sandy Hook and confirms that Lenny is a fraud."
FAU reprimanded Tracy in 2013 for using his university credentials in his personal blog posts about Sandy Hook, but in their editorial the Pozners argued that didn't go far enough:
When do the interests of the college and its students take precedence over the tenure of a professor who has clearly proven himself in violation of the university's own policy? The FAU Academic Affairs Faculty Handbook clearly states that "A faculty member's activities which fall outside the scope of employment shall constitute misconduct only if such activities adversely affect the legitimate interests of the University."
G/O Media may get a commission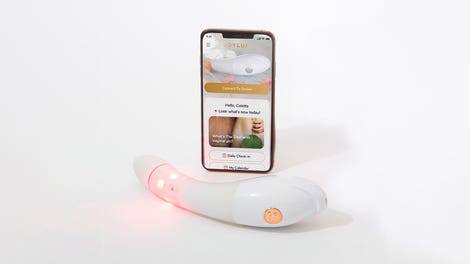 $50 Off
Joylux vFit Gold Device
They also pointed out that fellow professors had said Tracy's posts had "negative consequences," including students not wanting to attend FAU.
Tracy was fired in January 2016, and filed suit in April, saying the firing violated his rights to free speech and academic freedom. But a judge dismissed eight of the ten counts in the suit on Thursday, writing that the suit " mixed "multiple constitutional theories" and had a "lack of clarity," according to the Sun-Sentinel. The paper reports that he will potentially be able to refile on some of the claims, including his contention that the firing was "retaliatory" in nature. It's unclear whether he will actually refile.
The Pozners have since divorced. Lenny Ponzer, as detailed in New York magazine, has devoted himself full-time to fighting conspiracy theorists who claim Sandy Hook and other mass-casualty events were hoaxes. There are still many easily findable blogs questioning his son's existence, and even referring to Noah's name in sarcastic quotes.
In an update, Pozner told NYMag recently that the conspiracy theorists he's battling seem "emboldened" of late, and that sites like Google and YouTube and Facebook have been deeply unhelpful in taking down hoax material.
Update and correction, February 26: An earlier version of this post incorrectly stated that all of Tracy's lawsuit had been dismissed; a judge dismissed eight of ten counts but allowed two others to move forward. I regret the error.
On December 28, Tracy filed a second amended complaint. FAU moved to have the suit dismissed, a motion which the court denied. In his new complaint, Tracy accuses FAU of retaliation in violation of his right to free speech, of conspiracy to interfere with his civil rights, and challenges the university's policy on conflicts of interest and "outside activities." Tracy argues that his personal blogging constituted protected speech and shouldn't have resulted in is firing.