A Muslim woman says Planet Fitness kicked her out of the gym for wearing a head scarf which did not fit their dress code policy.
Less than a week after one of their locations made national headlines for telling a woman to cover up for looking "too intimidating," word comes that another Planet Fitness location made an even more questionable call in regards to its dress code policy. The incident involving New Mexico resident Tarainia McDaniel originally occurred in 2011 and is detailed in a new lawsuit, according to the Albuquerque Journal:
The national gym chain Planet Fitness has trademarked the phrase "Judgment Free Zone," but it didn't really seem that way to Tarainia McDaniel when she was barred from entering a gym on Irving Boulevard on Albuquerque's West Side.
The reason: The head covering she was wearing as part of her Muslim faith, which requires women to cover their hair, didn't meet the gym's dress code. McDaniel alleges in a lawsuit filed by her attorney, Rachel Higgins, that she explained the requirements of her religion but was told only that she could wear a baseball cap.

[....]
[A]n employee said the dress code was sometimes waived but that it couldn't be in her case because the head covering was red, according to the complaint.

McDaniel's civil lawsuit, filed under the New Mexico Human Rights Act and the Unfair Practices Act, alleges Planet Fitness illegally based the decision to deny her access upon her religion, or alternatively upon her race – she is African American – and that the gym had no legitimate or non-pretextual reason to deny her entry.
Erika Anderson, an attorney for the gym chain, told the Albuquerque Journal at the time the story was printed that Planet Fitness "didn't know the head covering was for religious purposes. It violated their dress code policy." However, last week, a spokesperson reached out to the paper to clarify:
[W]hile it cannot comment on pending ligation regarding one of its franchise gyms, the company policy accommodates head coverings worn for religious purposes.
"At Planet Fitness, our policy is, and has always been, that members are allowed to wear head scarves for religious reasons in clubs," said a statement from McCall Gosselin, director of public relations.
G/O Media may get a commission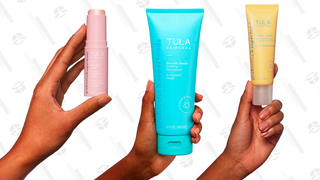 By the way, McDaniel isn't a stranger to Planet Fitness or its dress code policies. She's notThe location where she alleges the discrimination occurred is not the one she normally frequented. (She made the switch when a new branch closer to her opened.)
At the very least, it's clear that there's some confusion among Planet Fitness employees about this particular part of the company's dress code for clients. At the very worst, here are two separate cases of two black women being told the way they look and dress is not appropriate for Planet Fitness.
Image via Facebook.