We get a bit jealous anytime we hear about a nation in which all political candidates have a solid grasp on reality, but it's particularly depressing that we can't vote for British MP Jo Swinson. The 31-year-old Liberal Democrat led the effort to restrict airbrushing in advertisements, and now she's speaking out against sexism in television programs for children.
Citing a 2007 study that found two thirds of lead characters on British children's TV were male, Swinson said that broadcasters are hurting girl's self-esteem by showing female characters mainly in supporting roles and focusing on their looks, according to the Daily Mail. Swinson explained:
I'm not criticising any particular show but it's about the overall picture. It's not a problem having a story about a girl who becomes a princess or a boy who becomes an action hero, but not to the exclusion of all else. There are not many women characters who are doctors or scientists or explorers. So often girls are the sidekicks or in a supporting role and it becomes problematic. It is ingraining these gender stereotypes at a very young age. For parents who want to inspire their daughters to turn their hand to anything, there's a dearth of female role models there.
Swinton praised Dora the Explorer for focusing on a "normal girl," but noted that even Dora has been given the princess treatment recently. We can't comment on the merits of the programming on the UK children's network CBeebies as we've only flipped past the channel in hotel rooms, but The Independent has a rundown of how girls are represented on some popular children's TV shows. It probably isn't a good sign that the description of one of the top eight female characters reads:
Upsy Daisy: In the Night Garden

The gurgling star of this pre-school favourite spends most of her time skipping and blowing kisses. Her skirt inflates to a tutu when she is happy
G/O Media may get a commission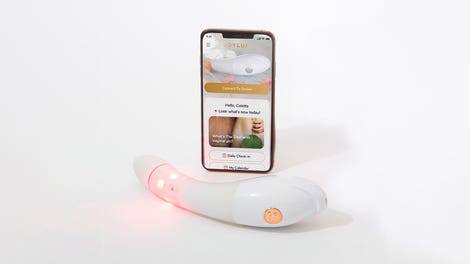 $50 Off
Joylux vFit Gold Device
Swinson isn't pushing for legislation on gender equality in children's shows, and said, "I'm hoping that by throwing a light on this issue, the lack of female lead characters will be addressed." Of course, the Independent's commenters think that she's wasting time and possibly "edging towards communism" by simply pointing out the lack of good role models for girls on TV.
It's refreshing to hear a politician discussing how the media affects young girls, though unfortunately it doesn't seem like Swinson's comments will immediately inspire broadcasters to show female characters in a wider range of roles. When asked to respond, Joe Godwin, director of BBC children's television, said, "All children have the right to see their lives reflected back on screen –- regardless of their gender, race, background or ability." Right. So why are so many female characters on kids' TV shows pink-clad, sparkly princesses when the vast majority of British girls aren't going to grow up to be Kate Middleton?
Where Are The Action Girls On Children's TV? Female Characters 'Too Pink And Pretty' [Daily Mail]
Children's Television Lacks Female Role Models, Says MP [The Independent]
Earlier: More Experts Call For Disclaimers On Photoshopped Ads
Image via Facebook.