Lauryn Hill is so infamous for showing up wild late to concerts (as in up to four hours late) that people avoid even attending her shows. After fans in Atlanta waited over two hours on Friday, Hill posted what sounds like a bullshit explanation on Facebook.
In the post, Hill promised to make it up to fans for performing only 40 minutes of her set, which was cut short due to the venue's (Chastain Park Amphitheatre) 11 p.m. curfew. She wrote on Sunday:
I don't show up late to shows because I don't care.
Which I initially read as, "I show up late to shows because I don't care." Because that seems to be more the case. Hill continues:
The challenge is aligning my energy with the time, taking something that isn't easily classified or contained, and trying to make it available for others. I don't have an on/off switch. I am at my best when I am open, rested, sensitive and liberated to express myself as truthfully as possible. For every performance that I've arrived to late, there have been countless others where I've performed in excess of two hours, beyond what I am contracted to do, pouring everything out on the stage.
Hill goes on to say she's passionate about her art, blames perfectionism, and says she needs "space made for spontaneity, which is not an easy process, with the many moving parts on the road." Strange, because plenty of perfectionist artists and legends manage to get on stage at a reasonable time consistently. She writes:
Some days we are more successful than others re time. However, the vitality that is infused into the performances is always appreciated by the audiences, who may not know exactly what it took to accomplish. What hasn't been touched upon by the media, I'm sure, are the hundreds of people who rushed the stage and stayed in excess of an hour after the show ended last night, just to connect.
G/O Media may get a commission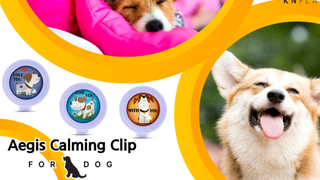 20% off
Aegis Calming Clip for Dogs
Anyone who's been to a dozen concerts knows the main act rarely hits the stage on time, but opening acts usually account for that waiting period. Hill says the challenge "is to figure out the best way to accommodate the vitality, spontaneity, and spirit that make the performances worthwhile and special to begin with."
She adds, "If I didn't Love and respect the art, I wouldn't be doing this. The audience and I should have that in common. My true audience knows emphatically that I care." The post ends:
It isn't possible to affect people in any deep and meaningful way without putting sacrificial time in. I have nothing but Love and appreciation for the fans in Atlanta, and regret not being able to give you a full show. We are figuring out a plan to make it up to you, and will announce details as soon as we have them.
Well, with all due respect, Questlove is calling bullshit on this. He responded in a statement about professionalism, writing, "you HAVE to think like a businessman in order to please the fan." He says:
4 hours on their feet is inconsiderate and uncalled for.

Now on the other side of the coin (and not wanting to put people's business out there) this is prime psychological sabotage fear in motion. This is the embarrassment of that Newark 4 lawsuit. This is age fear talking loud and clear. This is resentment of having to now do this to survive (I mean we all "do it for the love"—but this is survival) the embarrassment of now being a one album legacy artist and the possibility of not mattering anymore in this disposable society. People will kill something before it grows.
"This is resentment of having to now do this to survive" hits on a deep issue of Hill's below the surface, that whereas other legends have adjusted and maybe reluctantly humbled themselves, Lauryn Hill has a hard time compromising.
---
Image via Getty