Hey! Did you have a nice week? Make sure you're staying hydrated.
Here's all the shit we couldn't cover today:
While yes, Laura Ingraham believes America is over, she clarified that she does not side with white nationalists, even those who similarly believe America is also over. [The Hill]
We now have a date for Brett Kavanaugh's Senate confirmation hearings. [The AP]
Him? You think this guy should run? [The Hill]

The Saudi-led coalition fighting Shiite rebels agreed to open an investigation into a deadly airstrike that the coalition ordered on a bus in the north of Yemen, which killed at least 29 children. The coalition's decision came after mounting pressure from the U.S., the U.N., and the Shiite rebels to look into what happened. [CBS]
Betsy DeVos announced a plan to roll back Obama-era regulations that require for-profit colleges to share data around how many graduates are able to get well-paying jobs. A thing that sounds actually really helpful, because maybe if people knew how much debt students take on at some of these for-profit colleges, fewer would enroll and maybe they'd go out of business. In any case, the Department of Education will supposedly collect data on student debt and expected earnings for all the nation's colleges—not just the for-profit ones—and share that on the Department of Education's College Scorecard website. Good luck with that, I guess. [Politico, New York Times]
Scientists and lawyers at the E.P.A. internally criticized a new measure to review the use of asbestos in the U.S., saying the new rule could make it easier for businesses to use asbestos. Top officials at the agency pushed the measured through anyway. [New York Times]
Some good news: Almost half of the women Democratic candidates who ran for office (be it for the House, the Senate, or for govenor) in this election cycle won the party's nomination. [FiveThirtyEight]
More good news: Trans candidates could win the Democratic nomination in three upcoming primary races (one for lieutenant governor, one for governor, and one for Congress). If any of them win, it will be the first time an openly trans candidate wins a major party nomination in said race. [NBC]
Interesting: Uber says that drivers have the right to refuse service to users associated with the alt-right rally happening in Washington, D.C. this weekend. That should have been obvious, but that the ride-hailing company feels the responsibility to set that boundary is... a sign of the times. Airbnb similarly said it may not offer rooms to people going to the rally. [Daily Beast]
Hey teens in Massachusetts, no excuse not to register to vote anymore—starting in 2020, anyone who gets a drivers license in the state will be automatically added to voter rolls (unless they opt out), which is pretty cool. [Axios]

Here are some tweets the president was allowed to publish today:
G/O Media may get a commission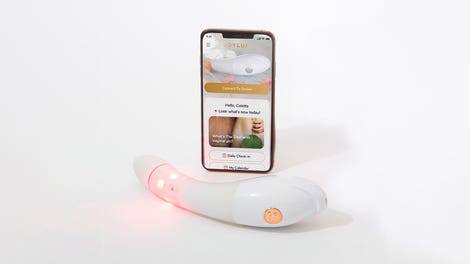 $50 Off
Joylux vFit Gold Device
This has been Barf Bag.