The anti-abortion and moderately sketchy Center for Medical Progress continues to churn out videos claiming Planned Parenthood is little more than a barbaric baby-harvesting mill staffed by infant-hating demons. The latest few have centered around interviews by a woman named Holly O'Donnell, who describes herself as "super pro-life" yet somehow ended up working at StemExpress, a company which collects fetal tissue as well as other human tissue and blood.
In today's video, O'Donnell, who says she was a phlebotomist at StemExpress, which collected fetal tissue from patients at Planned Parenthood, claims that her fellow technicians didn't get consent from abortion patients before taking their tissue. She says she always got consent. She wasn't in the room with other technicians when they were meeting with the patients they were assigned to. She's just pretty sure they didn't do it right:
"There are times when they would just take what they wanted," O'Donnell says. "And these mothers don't know."
As it turns out, she's referring to a consent form that StemExpress employees were legally obligated to give to patients (one which expressly says they understood they were donating tissue, and that they would not be "reimbursed or compensated" for it, a pretty big hole in the #PPSellsBabyParts argument).
O'Donnell makes two claims: that women would be forced to sign the forms even before they were sure they were getting abortions, and that her colleagues would ignore the consent forms:
The coworkers I had they were just — they would not consent the donors. If there was a higher gestation and the technicians needed it, there are times where they would just take what they wanted.
G/O Media may get a commission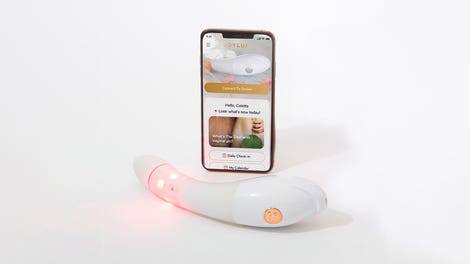 $50 Off
Joylux vFit Gold Device
She specifically points to an example where she says a colleague took blood—not fetal tissue— from a "high gestated" patient without her consent.
"It's terrifying," O'Donnell adds. "Imagine if you were an abortion patient and someone was going in and stealing your baby's parts."
Apropos of nothing much, she also accuses an OB-GYN of going "viciously fast" and causing StemExpress to "lose our specimens." Again, the implication seems to be that the doctor pressured his patients into having abortions, or did them too fast.
"I imagine him literally going into the room, lifting the covers, going in, grabbing and walking out," she says of the doctor. She imagines. (The video also, for no reason that we can ascertain, shows still photos of laminaria sticks without explaining what they are. They're seaweed sticks inserted to dilate the cervix before second-trimester abortion procedures.)

StemExpress has repeatedly denied that their work is illegal, pointing out that written consent is mandatory: "Written donor consent is required for any donation, including bone marrow, tissue of all types or blood." Through a public relations firm, they released this statement today:
StemExpress unequivocally denies the allegations made by Holly O'Donnell and The Center for Medical Progress (CMP), reaffirming that it has never obtained blood or tissue samples from a patient without first obtaining consent. Ensuring that patients have provided consent for blood or tissue donation to support medical research, education, or treatments is a threshold issue that is non-negotiable for StemExpress.

Like all of their previous material, today's video by CMP is deceptively edited and falsely worded to suggest impropriety or illegality where none exists. CMP's continued efforts to malign StemExpress—a life sciences company that predominantly supplies adult cells, blood and tissue to the nation's leading researchers—will only serve to slow the pace of life-saving medical research aimed at curing disease and extending quality of life for millions of Americans.
Meanwhile, David Daleiden, the anti-abortion activist heading the Center for Medical Progress, says on the group's blog that the video is further proof that Planned Parenthood is "barbaric:"
"Experiences like Holly O'Donnell's show that Planned Parenthood's abortion and baby parts business is not a safe place where vulnerable women can be cared for, but a harvesting ground for saleable human 'product.' Taxpayer subsidies to Planned Parenthood's barbaric abortion business should be revoked immediately, and law enforcement and other elected officials must act decisively to determine the full extent of Planned Parenthood's offensive practices and hold them accountable to the law."
It doesn't matter how flimsy the claims are or continue to be— they're providing politicians like Texas Attorney General Ken Paxton the pretext they need to continue "investigating" Planned Parenthood:
Update, 8:15 p.m.: In response to follow-up questions from Jezebel, a StemExpress spokesperson said O'Donnell knew she was applying for a job as a "procurement technician," applied for that specific job, worked there for four months as independent contractor, and has violated a confidentiality agreement by "stealing confidential documents" from StemExpress and giving them to the CMP. They also say she said in a resignation letter that she had to resign because she wasn't making enough money:
Ms. O'Donnell was a 1099 independent contractor, subject to written confidentiality restrictions and Code of Conduct agreements which she signed and which she has violated by stealing confidential documents from StemExpress and disclosing them to CMP. Contrary to her assertions, Ms. O'Donnell responded to and applied for a contract opening as a procurement technician. She was contracted only after interviewing for that specific position. Her other representations in the video are also false. Ms. O'Donnell's resignation letter states she was thankful for the opportunities and experience she received from the company and expressed regret she was leaving. She further stated that due to financial difficulties and lack of opportunities for work with StemExpress, she must seek out other employment to provide herself more financial stability. In other words, she was not earning enough money as a StemExpress procurement technician. She worked for StemExpress from Dec. '12 thru April '13.
---
Contact the author at anna.merlan@jezebel.com.
Public PGP key
PGP fingerprint: 67B5 5767 9D6F 652E 8EFD 76F5 3CF0 DAF2 79E5 1FB6
Screengrab via YouTube