In an episode that graciously skated around party politics, Wednesday night's Black-ish took on the notion of the rare Black Republican. The problematic issue at hand: Junior joining the Young Republicans Club.
For Dre and Rainbow, this is obviously tragic news. In the scene above, Dre breaks it to Rainbow in the kitchen, telling her, "Bo, we have a problem. Junior is a Republican." 'Bo can't fathom that her son could possibly be Team GOP because their family is "compassionate liberals who believe in tolerance, acceptance." Dre interrupts, "Whatever, we're black. That's all that matters."
Fortunately, Junior's Young Republicans membership is only so he can get closer to a girl named Hillary (ha). The episode clearly leans liberal—Dre says, "There was no way I was gonna let my namesake become an Uncle Tom." Then he and 'Bo spend most of the time humorously trying to talk Junior out of his conservative interests. (Dre denies Junior school lunch by telling him, "If you wanna eat, pull yourself up by your bootstraps!").
But like most episodes of Black-ish, this one ends diplomatically and tries to avoid blatant bias. The show is, once again, just turning old controversial conversations into new fodder in the form of safe, chewable tablets. So it's not a full indictment of Republicans—there's a slight jab from Dre about Hillary Clinton not being "the freshest candidate." And 'Bo later tells Junior and the kids that they'll accept wherever their party lines lie. In another scene, Dre and 'Bo have a problem explaining exactly why they're Democrats.
The most priceless, funniest moment is a conversation between Bo, Dre and Hillary's parents at their mansion. While both sets of parents beef about what makes their party better, Hillary's mom says, "I just didn't have time for all that 'leaning in' and whatnot. I leaned back—into our children. I just think moms who are always about their jobs are selfish."
G/O Media may get a commission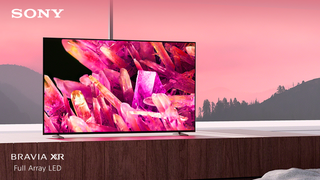 $400 off
Sony 55 Inch 4K Ultra HD TV X90K Series
I can't make it through this without mentioning the genius of my fake little sister Diane, who spends the episode trying to rid herself of the nickname Dre gave her: Gurkle (girl Urkel). Also, Jack's nickname is "Party Time."
Watch Dre's mom react to Junior's news in this clip from Anthony Anderson's appearance on The View on Wednesday:
---
Contact the author at clover@jezebel.com.