There is no parallel version of The Bachelorette, so excessively theorizing about how an alternate version of the show would be far superior, whether entertainment-wise or ethically, is difficult and ultimately fruitless. But watching Monday night's episode of the show gave one a glimpse of what it would look like were its substance not so firmly shoved into repetitive storylines.

One of the show's noteworthy moments was during Rachel's date with Dean, when the two attended church together. "Because faith is such an important part of my life, I need someone who shares those values," she said in an interview. "It's not necessarily that they have to worship the same way that I do, or have grown up in the same religion or way I did," she clarified. But, "I need someone who honors and respects my faith." Historically the show has shied away from presenting the importance religion might play in the lives of its contestants, but this was the second time this season Rachel's gone to church and specifically discussed religion in an explicit way.
The honesty continued with Rachel's discussion with Dean during the dinner portion of their date, as she tried to get him to open up about his family life. "Rachel has no idea what she would be walking into if she would commit to a hometown," Dean said in an ominous interview, before telling Rachel, "My family is not gonna be the family you want to see." As we saw in the preview for next week, Dean's dad seems to be at least a little bit eccentric, particularly for this show's standards, something he alluded to in this week's episode. But their conversation was so weirdly edited that it was hard to really glean what had happened between Dean and his dad.
Some other moments: Rachel revealed to Matt that he reminds her "the most of myself" of all the men there. "In real time and outside of this, all this would be different for you and I," she told him. Or her conversation with Adam, who asked her somewhat awkwardly, "There's no way to beat around this question but, do you see yourself potentially falling in love with me?" to which she replied, "Yeah, I mean that's why you're still here." Or her conversation with Eric about his rough upbringing, setting up her trip home with him next week.
But instead of lingering on these scenes, which could reveal what's really different about these men and why Rachel might want to be with each of them, the show gets caught up in its own rules and remains focused on keeping things stereotypically suspenseful. The drama came with Rachel "changing the rules"—having three one-on-one dates and one three-on-one date, where she sent home Adam and Matt, with no official Rose Ceremony. And focusing on conversations that played up the competition between the men, like the one between Dean and Peter, where Dean suggested that Bryan is sweet-talking Rachel. They felt like old pages out of an even older playbook.
G/O Media may get a commission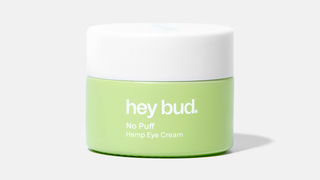 15% off
Hey Bud - No Puff Hemp Eye Cream
"Even though you didn't get to see as much of Matt and Adam, Rachel spent a lot of time with them and got to know them really, really well," Chris Harrison wrote on his Yahoo blog about the episode. "They were a big part of her journey and her love story, and I would be lying if I didn't say that this was the hardest day for Rachel so far." Chris is right—we didn't see any of Matt and Adam. And so even if it was the case that Rachel spent a lot of time with them, attempts to make the episode suspenseful regarding who would be sent home backfired: it was clear she was moving forward with Bryan, Peter, Eric and Dean just by the mere fact that they'd all gotten at least one individual date with her, whereas Matt and Adam had not. That's why everyone I saw commenting on the episode seemed mostly bored, at a time in which emotions should be riding the highest, given that these men have been here for more than a week or two and have actually spent some time with the woman they purport to have strong feelings for.
And it means that as a viewer, one has a feeling that something is a little off, that the actual story is not quite being told. "Whatever you do, I don't want you to feel, 'had I kept Adam, it would have been different,'" Adam told Rachel when she sent him home, implying that Rachel shouldn't feel guilt about breaking things off. But then, in the car: "She made a huge mistake. A massive mistake." What? Whether the producers know best about leaving the answers as to what he's talking about on the cutting room floor, we'll never know—but that's sort of the issue, isn't it?