Larry Wilmore used Monday's The Nightly Show to respond to Piers Morgan and comment on the expected backlash that comes after one calls the first black president "my nigga."
In what's probably the most epic White House Correspondents' Dinner moment in history, Wilmore ended his hosting gig by telling President Barack Obama, "Yo, Barry, you did it my nigga," followed by a requisite dap between the two. While some people applauded Wilmore's speech, which made sharp attacks on the media for things like, oh, facilitating Donald Trump's presidential run, he clearly got under people's skin.
Wilmore opened last night's show by recapping his wonderful weekend. "I hosted a little dinner party," he starts, and then explains, "I'm wrapping up my speech and giving the President some props, telling him how much I appreciated him being the first black President and what that meant to me. And then I buttoned it with a little, let's say, uh, colloquialism."
Watch the segment below.
G/O Media may get a commission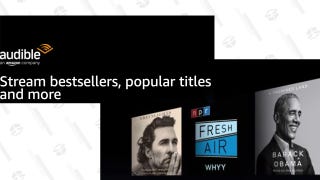 FREE
Audible Premium Plus 3-Month Free Trial
Wilmore knew what he was getting into with the word he used, which necessarily provokes a heated and divisive response. "There was a lot of reaction online. Many people were upset about it and many people supported it," Wilmore tells the audience. "I completely understand why people would be upset about that. It's a very charged word."
He then takes time to correct Piers Morgan ("professional Beyonce disliker") for erroneously claiming Wilmore had called Obama "nigger," which he certainly did not.
"Okay, That's horrible. I would never do that. I believe I said, Yo Barry you did it my nigga. There's a difference," says Wilmore. "Piers, you did not properly conjugate that slur. Nigger is what white people use to denigrate, demean and dehumanize black people, and nigga is a term of endearment some black people use amongst each other to take back that power."

His advice to Morgan: "Conjugate the slur! And then also, don't use it."
---
Image screengrab via Comedy Central