Plus-size retailer Lane Bryant is still plugging away at its Labors of Hercules, i.e., their attempts to convince a customer base with increasing options that there's new life in the old gal. This time, they've enlisted designer Prabal Gurung for their next higher-end collaboration.

Is this... could it be.... am I feeling the feeling of not being mad at Lane Bryant?
That's according to Women's Wear Daily. Said Gurung: "I made a gown for the cover of O for Oprah Winfrey, who shared the cover with Ellen DeGeneres. It didn't even look like it was a different size. It was an incredible opportunity. I don't care about the size of women. I'm more interested in the essence of who she is.."
"Prabal really wanted to do this," Lane Bryant CEO Linda Heasley told WWD. "He feels so strongly about the message we are advocating, that all women deserve good fashion. He can't get buyers in department stores to buy his large sizes so he wants to work with us."
Obligatory eye roll for Lane Bryant still trying to position itself as the Saint Paul of body positivity when the best thing they can do for fat chicks is deliver the best possible clothing, but offering a venue to a designer who wants to do just that is pretty much a best-case scenario for what this company can do with its still substantial position in the marketplace. (As long as they let Gurung actually do his thing, which means I'd better not see one of those polyester tops with the asymmetrical hem.) Much more promising than the sound of this:
Another piece of the modernization strategy is Lane Bryant's feisty "I'm No Angel" campaign launched last February. It encourages women to be confident in their own skin and own it. "I feel [the campaign] has a lot of traction," Heasley said. "We're getting it ready for the fall. It's about a celebration of women." The Lane Bryant woman, Heasley added, "is like all women in America. She is active. She is beautiful. She has a life."
G/O Media may get a commission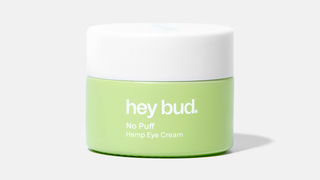 15% off
Hey Bud - No Puff Hemp Eye Cream
Yes, I know I have a life, which is why I would like for your store to be a place I can reliably dash in at the last minute looking for, say, a cocktail dress or snappy interview ensemble. Don't worry about reassuring me that I deserve nice things; just make them available, please.
There aren't any preview pics just yet, but the collection is due out March of next year, so stay tuned.
---