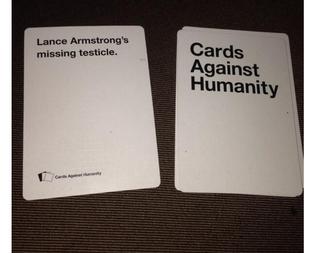 AWKWARD. Lance Armstrong tweeted this photo of a card he got while playing the delightfully evil game "Cards Against Humanity."
Via Mashable:
Armstrong, who in 1996 had testicular cancer and subsequently had one of his testicles surgically removed, found a Cards Against Humanity card emblazoned with "Lance Armstrong's missing testicle" over the weekend while playing the party game
Finally we have a good answer to the most haunting question of human existence: "What happens when a celebrity plays a game that makes cringeworthy digs at them?" For those of us who are CAH regulars CHAMPIONS, this is probably one of the least offensive cards you can play in that whole game. He should be thankful he's not David Blaine.
Image via Lance Armstrong Twitter