While Sarah Palin's out of the spotlight for now and Michele Bachmann's once bright political aspirations are fading fast, we may feel tempted rejoice. But for every Palin and Bachmann, there's a Noem and a Haley ready to take their place, and trying to argue with any of their ilk might feel like a neverending game of rhetorical whack a mole. Fortunately, the ideological opposite of these women exist, and we've compiled a collection of some kickass ladies to watch, to cleanse your political palate of all the nutty Mad Libs that have been clogging the airwaves this election cycle. Let's take a look, shall we?
---
Tammy Baldwin
Bio: Baldwin has represented Wisconsin's 2nd Congressional District since 1999. The 49-year-old grew up in Madison, Wisconsin. She's the first openly gay non-incumbent to be elected to the US House of Representatives.
Badass Credentials: In 2007, she co-sponsored a bill proposing to impeach then-Vice President Dick Cheney and then-Attorney General Alberto Gonzalez. She voted against the invasion of Iraq.
Badass Quote:
Yet, Republicans reject these commonsense solutions. They have no interest in shared responsibility and ask nothing, I repeat, nothing, of millionaires, billionaires, and corporations that use tax loopholes to ship jobs overseas. Instead, they expect middle-class Americans, struggling to pay their own bills, to pay all the country's bills, as well.
G/O Media may get a commission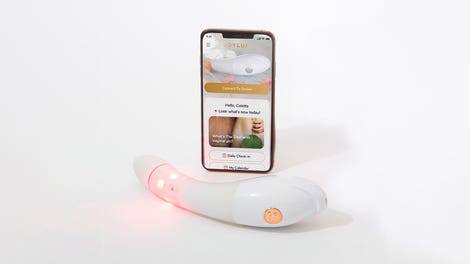 $50 Off
Joylux vFit Gold Device
Aspirations: Last month, she announced that she'd run for retiring Senator Herb Kohl's seat in 2012. Considering the fact that the state of Wisconsin (shout out to my home state) ousted the amazing Russ Feingold and elected Scott Walker in recent years, they're due to make a non-stupid political move. By the way, Baldwin also aspires to recall Scott Walker, who some of you may remember as the chinless Republican union buster whose unpopular policies drew hundreds of thousands of protesters to the State Capitol in Madison earlier this year.
---
Diane Savino
Bio: Some of you may know her New York's district 23 state senator, but she's best known for a fucking amazing off the cuff speech in favor of allowing gay marriage in New York.
Badass Credentials: A self-admitted "neurotic cleaner," she began her career as a child welfare case worker. She's strongly pro-union. Her plea in support of gay marriage made her an internet sensation, much in the tradition of Keyboard cat. She's championed a measure that would allow New Yorkers 12 weeks of paid family leave in order to care for a new baby or sick family member.
Badass Quote:
That's what we've done to marriage in America, where young women are socialized from the time they're five years old to think of being nothing but a bride. They plan every day what they'll wear, how they'll look, the invitations, the whole bit, they don't spend five minutes thinking about what it means to be a wife. People stand up there before god and man even in Senator Diaz's church, they swear to love honor and obey, they don't mean a word of it. So if there's anything wrong with the sanctity of marriage in America, it comes from those of us who have the privilege and the right and have abused it for decades.
Aspirations: She makes for a great sound byte. Perhaps a national office is on the horizon.
---
Judy Chu
Bio: Judy's the first Chinese American woman ever elected to the US Congress and has represented California's 32nd District since 2009. In 2010, she fended off a Republican challenge to hold onto her seat.
Badass Credentials: Judy Chu cosponsored 2010's Global Sexual and Reproductive Health Act, which authorizes the President to provide support for abortion services to women in developing countries. She has received a perfect 100 rating from NARAL and Planned Parenthood for her political stances, and is ranked by the National Journal as the House's most liberal member (tied with Tammy Baldwin). She's also a vocal advocate for education.
Badass Quote:
There is absolutely no grounds to call for such an onerous and invasive investigation into Planned Parenthood. In fact, HHS and state Medicaid programs have regularly audited the organization and have not identified any patterns of misuse of federal funds or other illegal activity. This investigation is simply part of the GOP's ongoing efforts to gut Planned Parenthood's funding and ultimately destroy this incredibly important organization. I urge any of my colleagues who believe in Planned Parenthood's mission of providing essential health services to our most vulnerable citizens to stand up on behalf of Planned Parenthood and fight against these baseless attacks.
Aspirations: Her husband, Mike Eng, is also a politician, and Chu will undoubtedly face stiff competition in next year's House elections.
---
Kamala Harris
Bio: Harris was elected Attorney General of California in 2010, after a career in the legal field. Her heritage is Indian and Black, making her the first Black Attorney General in California, the first Asian-American Attorney General in California, and the first Indian-American Attorney General in the US.
Badass Credentials:She's taken a firm anti-human trafficking stance in her career, co-sponsored the California Trafficking Victims Protection Act. It's the nation's most comprehensive anti-sex trafficking law. She's been a vocal opponent of the AT&T/T-Mobile merger.
Badass Quote:
Our review of the proposed merger between AT&T and T-Mobile has led me to conclude that it would hinder competition and reduce consumer choice. Today we joined the United States Department of Justice in filing suit to prevent this merger. Enforcement of antitrust law is the responsibility of the Attorney General and is vital to protecting our state's economic strength and tradition of innovation for the betterment of all Californians.
Aspirations: While she's broken ranks with Democratic party leaders and has avoided talking about the new federal crackdown on medical marijuana farms, as recently as 2008, the New York Times thought she might be our first female president someday.
---
Kirsten Gillibrand
Bio:Gillibrand was a fairly moderate to conservative Democratic member of the House of Representatives, but when New York Governor David Patterson appointed her to take over Hillary Clinton's vacated Senate seat in 2008, she swung sharply to the left. And we're not complaining.
Badass Credentials: Since joining the Senate, she's supported the DREAM act, authored a measure designed to combat illegal gun trafficking, and led the charge to repeal Don't Ask, Don't Tell. In 2008, she became only the sixth woman in history to give birth while in congressional office.
Badass Quote:
Dear Mr. Speaker, In a letter to you last week, the Attorney General advised that the Administration has concluded that Section 3 of the Defense of Marriage Act (DOMA) is unconstitutional and therefore will cease to defend the statute in pending litigation. It is in the best interests of taxpayers and the constitution for you to refrain from appointing special counsel to defend this law. A decision to appoint special counsel would be an unnecessary cost to taxpayers, and would detract from our shared goal of cutting wasteful spending and creating jobs.

The executive branch's responsibility to defend federal laws is not absolute, particularly in instances such as the present case, where the federal law is in direct conflict with the confines of the Constitution. At this critical economic juncture in our nation's history, it is imperative that we as legislators do not devote resources to defending an antiquated and unconstitutional law.
Aspirations: She's running for reelection in 2013, but her ease in speaking, popularity, and guts on the floor of the Senate have some buzzing that she might run for President someday.
---
Terri Sewell
Bio: Sewell is the Congresswoman representing Alabama's 7th district. She's the first black woman elected to congress from Alabama.
Badass Credentials: A product of Princeton, Harvard, and Oxford, Sewell has spent her career breaking barriers for women of color. Strongly in support of increased financing for schools and education. Involved in "Voices Against Violence" campaign that raised $70,000 to combat domestic violence in Birmingham.
Aspirations: Her political career's just getting started, but if her trajectory is any indication of her destiny, she's on her way to pretty big things.
---
Debbie Wasserman Schultz
Bio: She's the Democratic National Committee chairwoman, the US Representative from Florida's 20th district, and the first Jewish congresswoman elected to represent the state of Florida. See? The state's not all bad!
Badass Credentials: At age 26, she became the youngest female legislator in the history of the state of Florida. A vocal opponent of the Stupak-Pitts amendment to the Affordable Care Act (one of those maddening addendums that make sure no federal money is ever used for abortion). She's pro gun control and pro gay. Active member of Planned Parenthood. Continued congressional duties while undergoing treatment for breast cancer in 2008.
Badass Quote:
I'm from a state, as Mr. Rooney is, that includes and represents the districts that include real victims. I represent a very large — one of the largest gay populations in the United States of America. One of the largest Jewish populations in the United States of America. My region — our region has a very large African-American population. It really is belittling of the respect that we should have for these groups to suggest that members of the armed services have somehow systematically been the victims of hate crimes.
Aspirations: She's great at pissing off Republicans, ambitious, progressive, and no-nonsense. Watch this one.
---
Amy Klobuchar
Bio: Klobuchar is Minnesota's Senior Senator. Before her foray into national politics, she was the Hennepin County Attorney General in Minnesota.
Badass Credentials: She's popular, with an approval rating hovering above 65%. She's smart, and was named Minnesota's Attorney of the Year in 2001. During the hearings to confirm Supreme Court Justice Elena Kagan, she sparred with noted bag o' dicks Tom Coburn about his treatment of the nominee.
Badass Quote:
I was really interested and listening to Senator Coburn. … He was actually asking you, just now, back 30 years ago if you thought that we were more free. … But I was thinking back 30 years ago, was 1980. … And then I was thinking, were we really more free, if you were a woman in 1980? Do you know, solicitor general, how many women were on the U.S. Supreme Court in 1980?
...
That would be correct. There were no women on the Supreme Court. Do you know how many women were sitting up here 30 years ago in 1980?
...
No women were in the United States Senate. There had been women in the senate before, and then in 1981, Senator Kassebaum joined the Senate. So, as I think about that question about if people were more free in 1980, I think it's all in the eyes of the beholder.
Aspirations: Some speculate that she might make a mighty attractive Supreme Court Justice someday. And by attractive, of course, we mean kickass.