GOD, I love reading famous people's tour riders. It's the fucking best. I don't begrudge them any of it—go nuts, stars!—but it's just so satisfying to peer into people's weird obsessions and/or whims and/or determination to fuck with their assistants. A legal document detailing Lady Gaga's demands was leaked this week, and, naturally, it does not disappoint. Here's an excerpt.
In room:
White Leather couches
Fresh Yellow, Lavendar or White. Roses
Whites candles (Jenn brand?)
Steamer

Ambiance:
Allison Gaga liked the ambiance that was created in Chicago for Oprah filming. Glam rock, Black, Silver statins drapped over walls Old Rock Posters from her favorite artists Bowie, Queen, Elton, Billy Joel, Billy Holiday Her favorite Fan art that was kept on the road with us Also she wanted a manquin with puffy pink public hair...
Ana Gasteyer Satirizes the Girl Boss in 'American Auto'
---
Lance Bass called out Chris Brown for being a disgusting homophobe:
"Calling people faggot and that stuff, I mean, he may not even mean what he means, but it's a derogatory term that people throw out there and without even knowing why they are saying it," Bass told Celebuzz. "But when it comes to Frank Ocean and knowing that he's … very out … it was definitely meant to hurt him. It's never good to throw those words out there that mean so much."

And it upsets Bass all the more that the slur is being thrown around by a minority.

"[Brown] should understand that being a black man himself. He should know that the F word is just like calling you the N word in a very derogatory way," Bass said. "When you come from a minority like that, being gay or black or whatever, it's like there should be an understanding, like we all get each other. But you don't see that a lot, which is really sad."
G/O Media may get a commission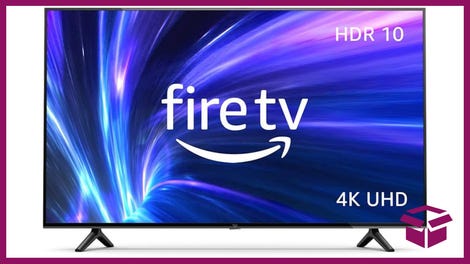 42% Off
Amazon Fire TV 50" 4K Smart TV
Lance! Lance! Lance! Lance! Lance! [Celebuzz]
---
Lindsay Lohan is "humiliated" to be living at home in her teenage bedroom. I mean, not to victim-blame, but maybe you should have thought of that before being THE WORST ALL THE TIME.
"Lindsay was absolutely mortified and humiliated over the reports she was living back at home with Dina," a source tells Radar. "She was thoroughly embarrassed that people knew how bad her finances are and exactly how broke she is. She immediately begged a friend to let her crash at their apartment in Soho. It's only a matter of time though before Lindsay wears out her welcome, as inevitably always happens, because she is a total slob and smokes like a chimney . She is still trying to get her own place, but she's totally broke , and has beyond horrible credit - right now, she probably couldn't even get a library card. Lindsay's bank accounts are still frozen by the IRS because she owes almost $300k in back taxes."
You know, LiLo. I'm thinking, in the interests of your future, that it might be A-Little-Bit-of-Humility-O'clock? Just a thought? Between us galz? Because this giving no shits business isn't really working out for you. [Radar]
---
Diablo Cody is talking about writing a film adaptation of Sweet Valley High. I HAVE NO PROBLEM WITH THIS WHATSOEVER.
"On one hand, ['Sweet Valley High'] is a guilty pleasure," Cody said, "And on the other hand, it's a really interesting, psychological, study of women and how we tend to compartmentalize ourselves as fun, boring, good, or bad."
Dear Diablo Cody, my birthday is in 1 month. Won't you please give me the #1 most tender gift that a woman can give another woman? (By which I obviously mean a Sweet Valley High movie? And a cameo in said movie? I'm just saying, it's my BIRTHDAY.) [CBS]
---
Emma Watson came to the defense of Kristin Stewart, saying Stewart was treated horrible during the cheating scandal.
"Those who criticized her are the same people that think that being rich and famous is like being covered in some kind of magic powder that makes life perfect: Nothing can go wrong in your wonderful world," the Perks of Being a Wallflower star told Vanity Fair Italy. "For these people, Kristen deserves all the bad things that have been thrown at her because she had an amazing life and she ruined it."
Watson stamped her foot and added, "Also, honestly, am I the ONLY ONE who bothered to read Hogwarts: A History? FOR FUCK'S SAKE, YOU GUYS." [E!]
---
HOPE YOU'RE AS "PUMPED" ABOUT THIS WEEKEND AS I AM LOLOLOL OK BYE I LOVE YOU ZZZZZZZZZZZZZZZZZZZZ...