Yesterday, folks got a look at the 2012 tax information for Lady Gaga's Born This Way Foundation, and found that the organization claimed $2.1 million in assets but gave away only $5,000. Today, Gaga's mom is speaking out.
Showbiz 411's Roger Friedman broke down the way BTWF spends money thusly:
$300,000 in strategic consulting

$62,836 on stage productions

$50,000 on social media
$50,000 on event coordination

$406,552 on legal

$150,000 on philanthropic consulting

$60,000 on research

$58,768 on publicity fees

$78,000 on travel

$72,000 on salaries

$808,661 on "other"

$5,000 on grants to organizations or individuals
Today, Marc Brackett, Ph.D, Director of the Yale Center for Emotional Intelligence, and Cynthia Germanotta — Lady Gaga's mother, as well as co-founder and president of Born This Way Foundation — have penned a piece published on The Huffington Post, defending the organization. The post begins: "It is important for us to set the record straight." According to Brackett and Germanotta, "There is quite a bit of inaccurate information out there right now that misinterprets the essential mission and critical work" of the BTWF.
The copy goes on:
First and foremost, we are an organization that conducts our charitable activity directly, and we fund our own work. We are not a grant-maker that funds the work of other charities, and were never intended to be.
G/O Media may get a commission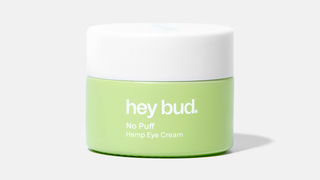 15% off
Hey Bud - No Puff Hemp Eye Cream
In other words: It's not, and it never was, about giving money away. The copy also points out that the start-up costs were covered by Gaga, using her own money. (That said, there is a DONATE button on the BTWF site. No word on whether your contribution is tax deductable.) $300,000 for strategic consulting might sound like a huge sum, but isn't that what getting the message out is all about?
Our activity has included The Born Brave Bus Tour, which has travelled to 23 communities, interacting with more than 19,000 young people and raising awareness to the tune of more than 300 million media impressions. The foundation's messages of kindness and bravery have touched more than half a million online users via our website, which includes the Bravest Map Ever and the Play Brave Game, as well as social media channels such as Twitter and Facebook — which on a peak week can hit 50 million individual users.
Basically, Brackett and Germanotta insist that the Foundation is about awareness, and that it has certainly been making strides in that direction, in terms of internet impressions. There's more here, but the gist of it all is that the two claim "every dollar spent" — including legal fees — has been in support of the "core mission," which is empowerment. Measuring how much empowerment has happened is impossible. But the defense ends thusly:
Each of these initiatives was funded via monies detailed on the 2012 Form 990. And a true examination of this form, not to mention a clear understanding of the differences between a grant-making organization and one that carries out its work directly would have made this a non-story.
Image via Getty.