Glamour's annual Women Of The Year Awards took place last night; 12 amazing women were honored, including Lady Gaga and Malala Yousafzai. In her acceptance speech, Lady Gaga said, "If I could forfeit my Glamour cover I would give it to Malala."
Speaking to Entertainment Tonight, Gaga also said, "I am very grateful that I was chosen to be on the cover, but I think it's really an important time to look at the sphere of all the women that are being honored tonight. And to turn glamour into something that's not on the outside, but something that's on the inside."
According to Fox News, "no one received more acclaim and adoration" than Malala, who gave an impassioned speech about education. "I believe the gun has no power because a gun can only kill," she said. "But a pen can give life."
Also honored at the ceremony were Gabby Giffords, Catherine Martin, Kerry Washington, Liya Kebede, Christy Turlington Burns, Natalie Massenet, Carissa Moore, Barbra Streisand, and Melinda Gates. [Fox News, Entertainment Tonight; also see Glamour's Instagram]
---
G/O Media may get a commission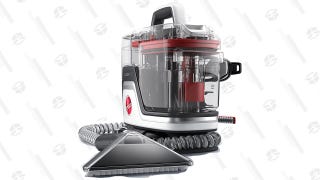 Save $10
Hoover CleanSlate Plus Carpet & Upholstery Cleaner
Every gender gets its day in the sun this month. GQ has released its Men of the Year covers. There are five: Justin Timberlake, Matthew McConaughey, Will Ferell, Kendrick Lamar, and James Gandolfini. In Justin Timberlake's interview, he says, "I don't see myself as someone who's ever going to be defined by one moment," likely referring to his hair in the 90s. In Kendrick Lamar's, he says that things are "pretty cool" between himself and Drake, although: "I mean, I would be pretty okay if we weren't." [GQ, USA Today, Fader]
---
Taylor Swift will be performing at the Victoria's Secret Fashion Show, which seemed to me a bizarre-ish choice until I learned that the other bands set to perform are Fall Out Boy, Neon Jungle and Great Big World — one being a terrible emo group from my youth and the other two being random assemblages of words that I will likely never encounter again in my life. Taylor also doesn't seem a strange choice when I recall that last year Justin Bieber performed. [E!]
While we're on the subject of Bieber and Taylor Swift: the sullen boyking of pop music has attempted to throw musical shade upon T-Swift. In his new song "All Bad" (album art for this single is a literal ":("), the Biebs probably is singing about how Taylor is a bad friend to Selena Gomez.
In the lyrics, he states that "Your worst enemy some time your best friend." He also implies that Taylor swift is envious. He then goes on to melodically squeak this horrible sentence: "Oooh, you know females/And how they like to run their mouths." GRANDPA! STOP! You're embarrassing me in front of my friends! [Perez Hilton]
---