For Lady Gaga's next trick, she will buy Neverland Ranch and cover it with black vinyl and spikes. Gaga, who has previously purchased 55 pieces of costly Jacko memorabilia, befriended LaToya Jackson and wants to help a "desperate" Paris, Prince and Blanket keep their 3,000-acre childhood home, which was sold to an investment group in 2008. The kids and Katherine Jackson still have shares.
Our Mother Monster, ever a philanthropist to the misanthropes, wants to help them out by buying more shares and "restoring Neverland to its original state," complete with a little train, petting zoo, fairground and bleak, desiccated American dreams. I can see the Enquirer headline now: ODDLY-DRESSED HUMAN WOMAN POPS OUT OF EGG, SAVES JACKSON FAMILY. [NME]
---
After applying a exfoliating clay face mask and doing a thorough scouring of IMDB Pro on a low-key Friday night in, Taylor Swift reportedly chose Bradley Cooper as her next album fodder and had Jennifer Lawrence introduce them. Coop-a-doop, however, was having none of it:
"First of all, her reputation precedes her. Bradley is very wary of dating someone who is a bit of a serial dater like Taylor. He thinks she's far too young for him. [...] It was a little awkward for Bradley [when] Jennifer came to him and told him that Taylor was interested in getting together. He had to politely decline, knowing full well that Jennifer and Taylor are friends. It was an ambitious move from Taylor, but she's going to have to fixate on someone else as Bradley's just not that into her."
G/O Media may get a commission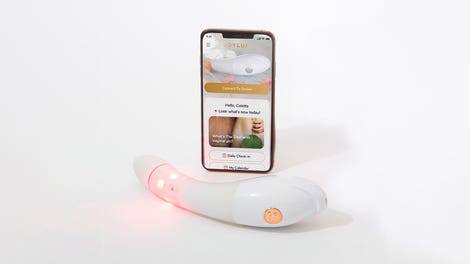 $50 Off
Joylux vFit Gold Device
Does T-Swizzle now have enough famous exes to recreate The Usual Suspects poster??? (You're welcome, GQ.) [Radar Online]
---
Megan Fox tells Esquire she can't stand pills and doesn't like drinking because she feels out of control. You guys know what she likes? Speaking in tongues!
"It feels like a lot of energy coming through the top of your head. Your whole body is filled with this electric current. And you just start speaking, but you're not thinking because you have no idea what you're saying. Words are coming out of your mouth, and you can't control it. The idea is that it's a language that only God understands. It's the language that's spoken in heaven."
She has also seen "magical, crazy things" happen and people get "healed" at church. I know whenever life throws problems my way, I turn to God. [NYDN]
---
Town & Country's most eligible bachelor is Prince Harry, even though he does not learn school good:
He's the wild-card royal, the naughty one, the one who goes out with rah women, hangs out with a fast crowd, downs too many drinks, and goes home at the wrong moment. That's why we all like him best. Harry might not possess a towering intellect [but] he is cooler and more appealing than his older brother.
Haha, ouch. P.S. Just Googled "rah." It means "posh twat." [People]
---
George Clooney joked about cosmetic 'nad surgery and had the LOLS for himself and others: "I never fixed my eyes, but I spent more money to stretch the skin of my testicles. I did not like the wrinkles. It's a new technique, many people in Hollywood have done it. It's called 'ball ironing.'" [News.com.au]
---