Today is a great day for pop music because Lady Gaga has simultaneously done the two most important things a pop star can ever do. 1) She's released a very good new album (one that I may be alone in enjoying), and 2) she's read another pop star to absolute filth. Music and mayhem! What more could I ask for?
In an interview with Beats 1 (I keep forgetting Beats 1 is a thing), Gaga was asked about being compared to Madonna, and simply wasn't having it:
"Madonna and I are very different, I wouldn't make that comparison at all. I don't mean to disrespect Madonna. She's a nice lady and she's had a fantastic huge career. She's the biggest pop star of all time, but I play a lot of instruments...I write all my own music. I spend hours and hours a day in the studio. I'm a producer, I'm a writer. What I do is different. I'm not just rehearsing over and over again to put on a show."
This is the part when I move the opera binoculars from my eyes and open my jaw as slowly as I possibly can. Say what you want about Joanne, but that response is pop perfection of the non-musical sort.
[Idolator]
---
Azealia Banks has responded to RZA's patronizing response to the media response to Banks's response to Russell Crowe's alleged actions which were in response to Banks's alleged actions during a dinner party Crowe held over the weekend in Los Angeles, and thus far it's the best response of the bunch.
G/O Media may get a commission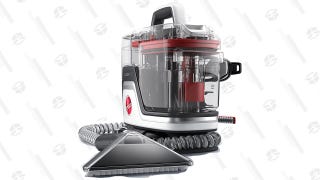 Save $10
Hoover CleanSlate Plus Carpet & Upholstery Cleaner
On her Facebook, she wrote:
"RZA has clearly been given no legal advice and went to straight to TMz out of his feelings to try and gaslight me. Whatever pieces are left of his brain after years and years of smoking dust stupidly allowed him to ramble himself into incriminating his friend, and completely debunking their entire made up theory."
I've gotta say, accusing RZA of misremembering things due to his history of smoking sherms is pretty convincing! But I've also gotta say that I'm so sick of this story.
---
Same, Selena!

[THG]

---
Phew! [Gossip Cop]

Woo! [ONTD]

Oh. [TMZ]
Pfffffft. [Page Six]
Who? [THG]