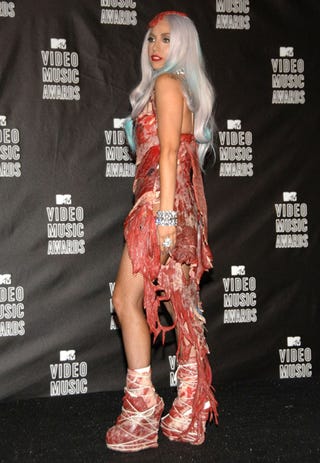 After the VMAs, Gaga sat down with Ellen — who is vegan — and attempted to rationalize why she was wearing a hat, dress and shoes made of meat.
Quoth the lady:
"It's certainly no disrespect to anyone that's vegan or vegetarian. As you know, I'm the most judgment-free human being on the Earth. It has many interpretations, but for me this evening it's [saying] if we don't stand up for what we believe in, if we don't fight for our rights, pretty soon we're going to have as much rights as the meat on our bones."
Ellen then presented the singer with an ensemble made from leafy veggies.






None of it makes any sense, but since Katy Perry usually has dessert covered, all we need now is a stiff drink to wash it all down.
Lady Gaga is Victorious at the VMAs! [Ellen]
Lady Gaga Explains Why She's Wearing Meat [PopEater]