When she steps down as CEO of the New York Times on December 31, Janet Robinson will receive nearly a $15 million severance, which, according to Reuters, includes a $4.5 million consulting fee and $10.9 million in benefits that she hoarded like a greedy corporate troll over her 28 years at the paper. Robinson would not have been eligible to receive pension benefits until she reached the 30-year service mark, but as per her separation agreement with Times Co., she gets to cash in her chips a little early.
News of the severance seems especially portentous for the ailing publication, as the Times this week has entered into talks to sell its holdings in 16 regional newspapers to Halifax Media Holdings and has offered buyouts to more than a dozen staffers. Jim Romenesko writes on his blog that the Newspaper Guild of New York, which represents more than a thousand Times employees, is particularly unhappy with Robinson's severance. Guild President Bill O'Meara tells Romenesko that the staffers are being forced to shoulder the burden of the paper's 80 percent stock decline over Robinson's 7-year tenure. He says,
[Staffers are] not happy about that when the company is still demanding major givebacks, including a freeze in the pension plan. They're [the Times] offering basically no raises and lots of cutbacks. They want people to work a longer work week with no increase in compensation.
In an era of unprecedented corporate compensation, it would initially seem that Robinson's payout is, considering the Times' financial woes, particularly ill-timed. However, lavish as her severance seems, it's still less than half of the $37.1 million Gannett Inc.'s Craig Dubow received after bowing out in October. Dubow's 6-year tenure as Gannett's top banana (that's a penis joke) paralleled Robinson's, as his company flailed through a new era of diminishing financial returns.
It's impossible to lament the injustice in these two compensation packages because after a certain threshold, a shitload of money is a shitload of money, and few Times employees who are watching their 401Ks evaporate are worried about how the disparity between Robinson's and Dubow's payouts is further evidence of a gender pay gap in corporate America. While Robinson is certainly cashing in big time for abandoning a sinking ship, her severance package is well short that of an industry peer, whose departure preceded hers by only a few months.
G/O Media may get a commission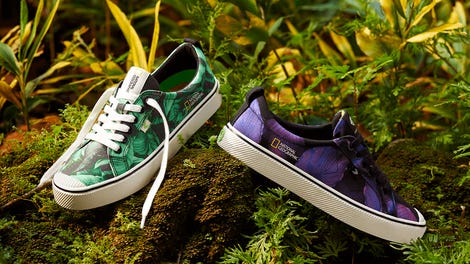 New New New
Cariuma + National Geographic
Even if there exists a litany of hidden financial factors that account for the disparate severance packages that Times Co. and Gannett hand out for a job poorly done, one has to consider Robinson's smaller payout in terms of Grindstone's observation earlier today that the newly released list of top-earning American CEOs doesn't feature a single woman. Not only that, but the top earning female CEO in 2010, Indra K. Nooyi, doesn't net even half in one-year compensation ($19.6 million) as the $56 million-dollar man at the bottom of the top ten list, Mario J. Gabelli of GAMCO Investors.
Maybe the relative small size of Robinson's golden parachute isn't a particularly infuriating example of social inequality, but at least Times staffers might console themselves with the fact their plight under a rapacious corporate oligarchy could be even worse.
Robinson Exit to Cost New York Times Over $15 Million [Chicago Tribune]
No Women Made It On To The Highest Paid CEOs List For 2011 [The Grindstone]