"Who the fuck was he to say that?" says photographer and friend to Alexander McQueen David LaChapelle of Karl Lagerfeld's comments shortly after McQueen's suicide.
While ostensibly complimentary, Lagerfeld had managed to also sound clinical and dismissive:
I found his work very interesting and never banal. There was always some attraction to death, his designs were sometimes dehumanized. Who knows, perhaps after flirting with death too often, death attracts you
Speaking to The Daily Beast, LaChapelle said,
"Alexander had blood running through his veins. He was not Karl Lagerfeld. He was a real human being who hadn't lost himself completely in this world of appearances and complete and utter superficiality and business."
G/O Media may get a commission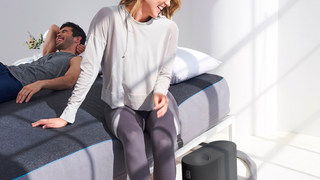 Eight Sleep Pod Cover
LaChapelle and other friends quoted in the piece paint a picture of McQueen as the Kurt Cobain of fashion — a genius of working class origins, tortured by the industry's commercial trappings and its surface obsessions, and fighting serious depression. "I think suicide was a visitor who'd come many times and he was waiting to let them in," LaChapelle says, "because he didn't want to punish his mom while she was alive."
Barneys creative director Simon Doonan uses his Observer column for a more extended memorial than the Tweets and emailed statements of last week. Having also grown up gay in Britain and found refuge in fashion, Doonan describes McQueen as
A young bloke compelled to leave the macho of the East End for the safety and magic of the effete fashion milieu, living it, loving it and loathing it all at the same time.

The creative rage, soaring imagination and intense curiosity that Mr. McQueen exhibited throughout his career was a function of the painful contradictions listed above. To my amateur Freudian gaze, his suicide by hanging reads like an act of self-administered capital punishment, a punishment for crimes that the poor, complex, sensitive lad never committed in the first place.
Meanwhile, an inquest has been told that McQueen died of asphyxiation, having hanged himself in his wardrobe. He died on the evening before his mother's funeral. The coroner's office described him as "a single man, a fashion designer."
Alexander The Great [Observer]
Alexander McQueen's Demons [The Daily Beast]
McQueen Took Life In Wardrobe [Sun]
Alexander McQueen Hanged Himself In Wardrobe, Inquest Told [Guardian]