When I was 20, my college's funded internship program wrote me a check for $3,000. Instead of hunkering down in an LA production office to slog through slush piles—as a film major actually invested in her future would probably do—I pursued an internship that cashed in on my incomplete Italian minor and weird penchant for institutionalized cross-cultural romance rituals. I would plan weddings in Italy. It would be very Liberal Arts.
The boutique events company was based in a small Tuscan town stuck between the medieval metropolises of Florence and Pisa. I took a plane, a shuttle bus, and two trains to reach it, arriving in the dry dark of nightfall. A cab driver dropped me off after a brief, silent ride. My summer rental was a sparsely furnished two-bedroom with more space than I would know what to do with, for which I'd overpaid. "Buonanotte," I told my cab driver. "Grazie." Then I was left alone with my expensive and still Italian rooms. I had no sense of where I was other than what I'd seen in the shallow slosh of the cab's headlights.
It was past midnight, but my circadian clock was striking a cool 7 p.m. I was wide awake. Within a few hours, I was sitting on the too-big, dusty kitchen floor, cradling my computer and a defunct modem in my lap, choking back panic. I was in a strange town and a strange country, and I couldn't reach anyone I knew. I climbed into bed, cried a lot, and watched every episode of 30 Rock I had saved on my hard drive until sunrise. And when day broke, I wandered outside, trying to push back the absurd but awful feeling that I would never see anyone I loved ever again.
This was my first time seeing Italy. The apartment buildings were squat and smooth and the colors of the earth: chalky pastels, achy reds. Clothes were drying on cramped patios and strung between windows, hanging motionless in the hot, heavy air. It was still early. I walked down my street and didn't see a single person. To my left were the apartment buildings, and to my right was Tuscan countryside, tons of it, stretching out in pale thirsty grass to a bunch of real-deal vineyards fringing purple hills.
I was standing in the middle of the street, open-mouthed in sleepy stupor, when I heard my name. A woman pushing a baby carriage was rounding the corner, waving at me.
---
Running a wedding-planning operation out of a remote Tuscan town meant that my boss, Alana, spent most of her workday in the car. Every morning, I climbed into the back of her teeny-tiny Fiat so she could hand me her infant through the window. I'd strap the baby into her carseat and make poor attempts to entertain her while she cried the whole ride to one of her grandparents' houses, where she'd be dropped off for the day. Then I'd clamber back up front and ride shotgun beside Alana for hours on end through the sun-flowered country.
Alana was a force. In her late 20s, she was running her own business out of her beautifully decorated, ultra-modern little two-story apartment, which was only a few miles away from the one in which she'd grown up. On our car rides, I looked out my window while listening to her raucous, rolling Italian; she shouted good-naturedly into her headset at caterers and florists, breezing through 15 different conversations in as many minutes. She wore smart, clean-cut dresses in either black or gray, changing into heels once she'd parked after driving in Pumas. She had a great big laugh, obstinate opinions on life's minute details, and buoyant, unselective affection rolling off her in waves. I admired her very much.
We drove to wedding venues. I let Alana handle the fast, loud negotiations with proprietors while I wandered around alone, taking pictures. It was one of my projects; Alana had charged me with designing location one-pagers to fire off to potential clients. I photographed infinity pools hanging off the lawns of 17th-century villas; the windswept, riotous greenery swamping old castles; stately rooms with antiques in creaking leather and crushed pastel velvets, saved from stuffiness by sweeping wide windows letting in the summer light.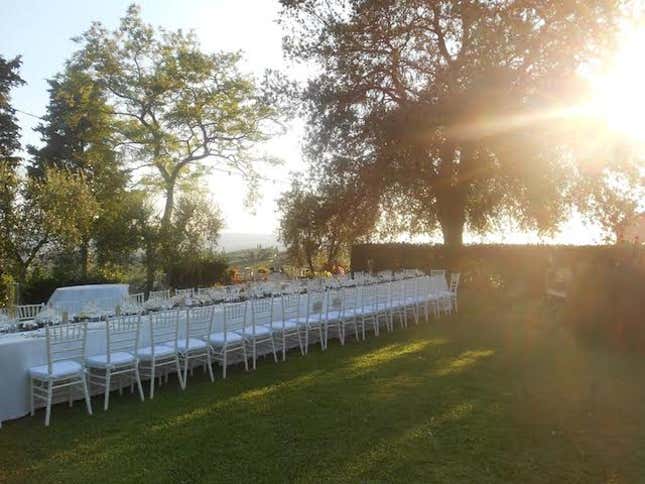 Back at the office, I downloaded my pictures and emailed panicky American brides about their floral arrangements. Since the office doubled as Alana's home, she rarely let me leave for the night without dinner. We made panzanella salads with the basil she grew on her patio, dancing around each other in the kitchen, the baby switching from my hip to hers and back again. We drank from a bottle of unlabeled wine from her father's local vineyard, the front door flung open to the late-setting sun.
When Alana's husband came home from work, I'd attempt to make broken conversation. A musician, he often requested that I translate American rock songs for him, to which he'd sung along for years without understanding the words. "I can't get no satisfaction?" he asked. "Non sono soddisfatto," I told him—I am not satisfied. Then, rethinking: "Non posso essere soddisfatto"—I cannot be satisfied. The attitude, the oomph, got lost in translation. But I tried my best.
The more I drank, the more confidently I spoke. I'd leave for the evenings, wine-whipped and unsteady, sweeping my arms in grand farewell. "Grazie mille per la cena! Tutto delizioso! Buonanotte! A domani!" Then, the walk down the street to my apartment, which was still too big and too empty. But I relished the hell out of that walk—just me and the racketing cicadas. Back on my patio, I leaned against the railing and wrapped my arms around myself, watching the sun set fire to the hills.
---
Her second time going down the aisle, an Italian bride wore pink. She and her new husband didn't speak English, so my brief interactions with them throughout the night were jerky and jokey. They gave me bellinis and didn't mind my loitering around the international cheese table. The villa, on the lawn of which a small ceremony took place, was pink. Before the wedding Alana and I had stood on chairs and strung fat round lights over white tables in the courtyard, which filled the pink candelabra centerpieces with reflections, like so many trapped fireflies winking in the dark.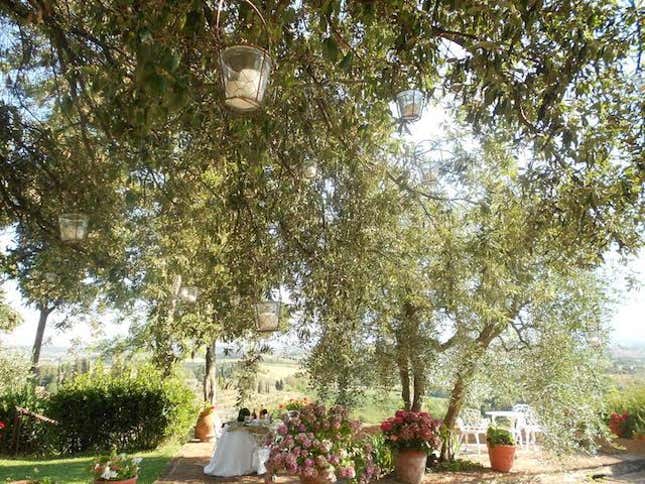 It could have been tacky. But the youthful, feminine aesthetic gave the whole event a spirited sweetness. Guests in their fifties, who had seen plenty of marriages come and go, danced on the lawn with the newlyweds like children. With a bacon-wrapped prune in one hand and a bellini in the other, I danced with them.
---
Her first time going down the aisle, an American bride wore white. She was my favorite client, warm and relaxed and only a few years older than I was. I met her in person for the first time two days before her wedding. She'd brought along her close friends and family for a weeklong stay at a cluster of villas on the very tip-top of a secluded hill, a few miles south of Florence.
It was late July. For weeks, I'd been socializing exclusively and sporadically with Alana's friends: hyper-heterosexual Italians in their thirties, with mortgages and children. On my free weekends, I took the train into Florence and read alone on rooftop bars overlooking golden piazzas, paying through the nose for glasses of Chianti. Being surrounded, suddenly, by 20 energetic Americans overwhelmed me.
After piling out of their airport shuttle, the whole wedding party got drunk on local wine by the pool while the landlord cooked everybody pizza margherita in the outdoor stone oven, and I got myself stuck in a tree. Alana stood on the world's oldest, rustiest step ladder, handing me tealights to dangle from the branches. I dropped half of them, shattering the glass on the cobblestones snaking threateningly beneath me, and Alana laughed like a maniac every time. Our hours of toil were worth it in the end; on the night of the wedding, the lights were beautiful.
The bride emerged from her villa through a blue door and walked down a candlelit aisle to the hillside patio, where her groom—fratty and friendly, smiling a big, goofy grin—waited for her. They were married between two weeping willows, one of which glimmered with a chandelier dangling from its lowest branch (lovely for the guests, anxiety-inducing for the wedding planners watching from the wings). Afterward, the party sat at an imperial table on the front yard under a single line of lights. Alana and I ate our dinner off to the side with the DJ at the cigar and whisky table, wolfing down champagne risotto with rose petals, Florentine steak in a red wine glaze, and a few mason jars' worth of tiramisu, licking all that overflowed from our fingers. We made sure none of the tealights came loose and fell on anyone when the patio was converted to a dance floor. The bride hugged us, happy and weepy. The groom may or may not have flirted with us, drunk but ultimately harmless. Our caterers, unused to the distinctly American tradition of getting bombed beyond belief at weddings, ran out of wine—but the landlord's son broke into the villa's cellar for the dusty-bottled good stuff, and all was well.
---
A week before my internship ended, I went on my last round of inspections. These were vendor test visits, my very favorite days.
The new clients, visiting from their home in London, were planning a Tuscan wedding for the following summer. Alana and I met them at a restaurant in Florence for a tasting. Over a plate of apricots and peaches stuffed with soft cheese, the couple told us what they were looking for. His accent was British and hers was Australian; both born in Iran but raised on different continents, they had met at school in the States. Their particularly international union seemed to warrant a wedding abroad, and anyway, they shared a passion for pasta.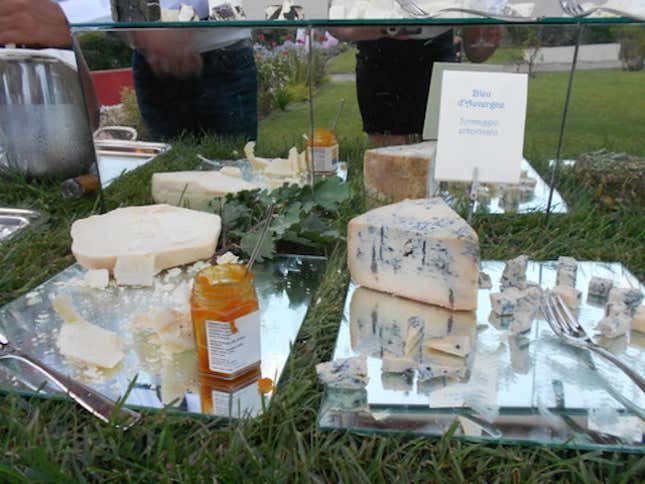 All that was for sure, they told us, was that their parents would hold them to certain Persian traditions. As soon as they're married, they'll each dip a pinky in a jar of honey and feed it to one another, in symbolic wishes of a sweet life.
Hearing this, I felt overcome completely. After a summer spent lying alone in roadside fields of sunflowers—and undertaking other similarly indulgent, solitary dramatics—I'd nearly forgotten that I could be so moved by something outside of myself, even as I helped construct other people's ideas of what love is supposed to look like (publicly affirmed, picture-perfect). The early onset loneliness I'd experienced months before, which had since quietly abated, flared again inside me with the empty twang of hunger pains, my body calling attention to an absence.
I'd been approaching all my weddings, for the most part, anthropologically—Isn't it interesting that Italians don't do bridesmaids or groomsmen? Aesthetics were my complementary vessel—Doesn't this cushion paired with these almond-filled glass boxes just make you weak at the knees? And there was, of course, the unchecked and uninhibited luxury of eating and drinking myself silly at parties where nobody knew me. Love had nothing to do with it. Love was an excuse to dress up and get drunk. Love was a flash in the pan.
Far away from anyone I knew well—let alone loved, or might love—my sudden disarming swell of sentimentality vied for a place to land. The couple across from me won my surge of isolated affection simply for having inspired it. I would only ever be associated with their wedding in its unsure beginnings. But I felt, for whatever reason, invested. All the pomp and circumstance to which I'd devoted my summer, and what really got me in the end was imagining these worldly, stylish, humble strangers facing the infinite uncertainties of a life shared, and feeding each other something sweet, for luck. If only so small a gesture was all it took.
Shannon is a writer living in Brooklyn. Tweet her @__keating.
Illustration by Tara Jacoby, photos from Shannon.