We just got an exclusive look at the cover of Dasha Zhukova's Garage magazine's debut issue. And there's a set of tattooed labia on it.
The full cover of Garage, with Damien Hirst's tattoo. Click any cover to enlarge.
An alternative cover of the magazine, featuring Richard Prince's tattoo design.
G/O Media may get a commission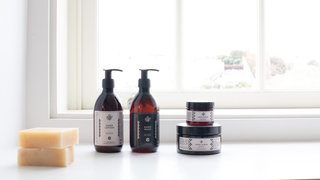 Exfoliate and Hydrate
The Handmade Soap Company
Dinos Chapman and Nick Knight's Garage cover.
For the cover and the main editorial inside, Zhukova approached artists Jeff Koons, Damien Hirst, John Baldessari, Raymond Pettibon, Jake & Dinos Chapman, Richard Prince, Dr. Lakra and Paul McCarthy to create tattoos especially for the magazine — which were then emblazoned on willing human canvasses. Random people, not professional models. The idea, like the magazine, straddles art and fashion — the Times says of Garage, "it is not entirely clear whether this is a fashion magazine that takes more than a passing interest in art, or an art magazine that knows its stuff about fashion." It probably helps that Zhukova co-founded a gallery in Moscow, also called the Garage Center for Contemporary Culture, and that her boyfriend, billionaire Roman Abramovitch, is one of the most important collectors of contemporary art in the world today.
Hedi Slimane photographed all of the people who were willing to get inked for art for Garage. The woman who made the cover is named Shauna Taylor, and she was 23 when she got Hirst's butterfly tattooed on her genitalia; the tattoo artist responsible for executing Hirst's vision was Mo Coppoletta. The cover ships with a green, butterfly-shaped modesty sticker covering Taylor's crotch — W.H. Smith in the U.K. has nonetheless refused to stock it when it goes on sale September 5, although Barnes & Noble apparently will stock it as is, unlike the recent Andrej Pejic cover of Dossier — which the reader can peel back, Velvet Underground banana-album-style, to reveal the actual tattoo. The photo underneath is explicit but beautiful. Hirst's butterfly wings appear on Taylor's labia majora and mons pubis; her pudendal cleft forms the insect's thorax and abdomen.
Zhukova told us, "The 'INKED' project is really emblematic of the mission of the magazine — bringing together individuals from diverse creative fields to produce something compelling and bold." Despite the W.H. Smith ban, Taylor's cover has been the most popular pre-ordered cover by far.
There are three Garage covers in total, including a sketch by Richard Prince of the tattoo he designed, and a doll house created by Dinos Chapman and photographed by Nick Knight, in which a bobble-headed, raccoon-eyed puppet version of the model Lily Donaldson plays with a doll's house, in which a Lily Donaldson puppet is playing with a doll's house, in which a Lily Donaldson puppet is playing with a doll's house, et cetera.