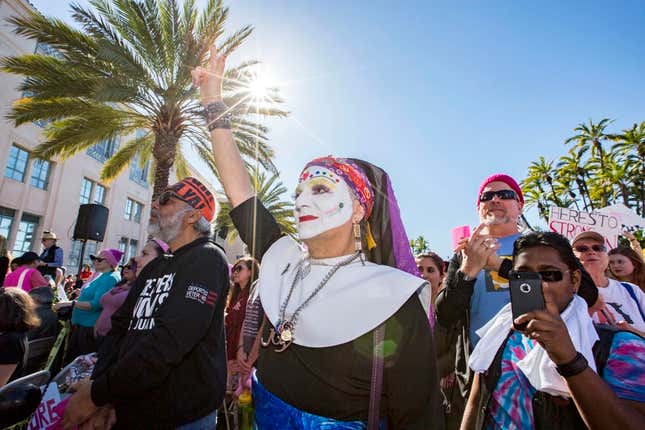 In an especially embarrassing display of corporate cowardice, the Los Angeles Dodgers on Wednesday night announced they're removing the self-described charity drag group Sisters of Perpetual Indulgence from the team's annual Pride Night next month. The move comes after an army of right-wingers—many of whom, like Sen. Marco Rubio (R-Fla.), live quite far outside of the city of Los Angeles—bullied the team organization to remove the drag performance group.

Olivia Holt Didn't Originally Get the Part of Roxie Hart in 'Chicago'
"We are now aware that our inclusion of one group in particular—The Sisters of Perpetual Indulgence—in this year's Pride Night has been the source of some controversy," the Dodgers' statement reads. "Given the strong feelings of people who have been offended by the sisters' inclusion in our evening, and in an effort not to distract from the great benefits that we have seen over the years of Pride Night, we are deciding to remove them from this year's group of honorees."
Earlier this week, Rubio had shared an open letter to the MLB commissioner calling the Sisters of Perpetual Indulgence an "anti-Catholic" group of members "who mock the faith" and encourage "perversion of Jesus's command to 'go, and sin no more.'" For all Rubio's bluster, I can very confidently say that the Sisters of Perpetual Indulgence have done far more for the betterment of humanity and the marginalized than himself: The organization was founded in 1979 as a group of activists on the frontlines of the AIDS crisis. They hosted some of the first fundraisers for AIDS victims in the nation, as many faced total financial devastation, and since the group's founding have raised $1 million for community nonprofits.
The removal of Sisters of Perpetual Indulgence from the Dodgers' Pride Night is as glaring a reminder as any of the utter hollowness of corporate Pride efforts, often a move to allow companies to profit from progressive posturing—all while throwing actual changemakers to the wayside and prioritizing the demands of bigots.
The Sisters released a statement that said they were "sad to learn the Los Angeles Dodgers have chosen to rescind their award, succumbing to pressure from persons outside of the State of California and outside of our community." The group emphasized that its "mission is to uplift our community and all marginalized groups, especially the ones ignored by larger organizations."
In response to the Dodgers' capitulation to homophobia, Rubio's miserable ass tweeted Wednesday, "For once, common sense prevailed in California."
We should all remember the team's treatment of the Sisters of Perpetual Indulgence when the Dodgers inevitably start shilling their rainbow hats and Pride merch in June.