Kylie Jenner turned 20 years old today, and she's already "wholly conceptualized, founded and helmed" a wildly successful cosmetics brand that's is on track to reach a billion dollars in annual sales by 2020. This information comes from WWD's latest "cover story," a title I'm still not down to give web-only features. (Where's the cover?!)
According to the piece, which Kylie's mother is so so so proud of, Kylie Cosmetics "has done $420 million in retail sales...in just 18 months" and is "on track to see a 25 percent increase in sales this year." Just for comparison's sake, they write, it took Tom Ford's beauty brand around a decade to hit that milestone.
I knew Kylie Cosmetics was successful, I just didn't know its success was stratospheric. But it makes sense! Per Kris, the young entrepreneur works "tirelessly every single day" and has a work ethic that's "second to none."
Author note: When searching Getty, one of our subscription stock photo agencies, my initial query was "Kylie cosmetics." These were the results:
G/O Media may get a commission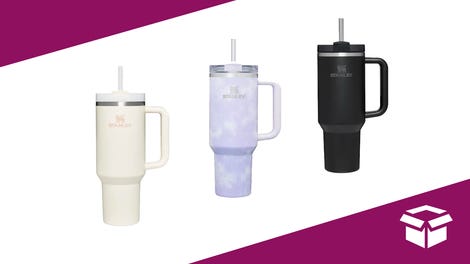 Up to 45% off
Stanley Cup Sale
[WWD]
---
Before getting into this next story, keep in mind that it was published by Radar Online, and therefore probably bullshit! It is, however, hysterical bullshit, so read it for pleasure—not factual information.

Lindsay Shookus is "terrified" of meeting the Afflecks, as she thinks they'll think she's the reason Ben and Jen 2.0 broke up. A source says Lindsay "has been avoiding this so far, but meeting Ben's mom, his brother Casey and the extended family is something's she's going to have to face."
They continue:
"She's terrified at facing their questions on how she and Ben met and fell in love. But she's starting to run out of excuses – and Ben's family members are beginning to wonder what's up."
First of all, no they're not. Second of all, she hung out with Casey recently and it was fine. Third of all, I doubt the Afflecks ever try to act morally superior to anyone. Fourth of all, Lindsay seems more intimidating than all of the Afflecks combined.
---
Here:

---