Think that Kylie Jenner is still being bankrolled by her mom? Think again! These days, Kylie's withdrawing from an entirely new ATM and it's owned by the Bank of HARD WORK.

During an interview with InTouch UK, Kylie told the tabloid that she's been financially independent from her mom, Kris Jenner, for years now:
"My mom cut me off financially three years ago," she says. "I pay for everything—my car, my gas, and food, as well as my clothes."
Kylie, who now supports herself with endorsement deals and her funds from her YA novel, also talked personal style ("[I] feel like I dress like Khloe on my down days and Kim when I'm going out"), being aware of the camera ("Sometimes I look back at myself on previous seasons of Keeping Up With the Kardashians and think, 'Why didn't you let your hair down then, or put on something nicer?'"), and exercise:
"I haven't worked out in two and a half years. I'm living out my youth not doing any exercise and eating what I want, which is pretty bad. I'm into yellow rice — you just cook it for 15 minutes, it tastes so good."
G/O Media may get a commission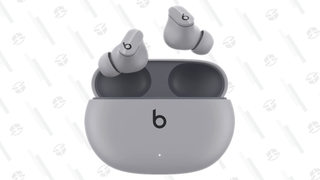 There you have it: Kylie Jenner is a teen who likes rice, can pay for it. And here you thought that you wouldn't learn anything useful today.
NOTE: This post originally featured a photo of Kendall Jenner, not Kylie Jenner. This wasn't a sly joke; Jia Tolentino, a small baby, legitimately cannot tell the Kardashian family apart. Jezebel regrets the error.
---
In his new, classily titled book Whitney & Bobbi Kristina: The Deadly Price of Fame (last I checked, Bobbi Kristina was still in the hospital surrounded by her grieving family), author Ian Halperin claims that a lawyer attempted to extort $250,000 from Whitney Houston at a time—1992—when she was rumored to be having an affair with her friend Robyn Crawford. According to a heavily redacted FBI file, the lawyer reported "knowledge of intimate details regarding Whitney Houston's romantic relationships." Okay! [NYDN]

---
Emile Hirsch appeared in court yesterday on charges of aggravated assault and intoxication. Hirsch was originally arrested at this year's Sundance after he allegedly attacked a female studio executive at a party. According to E! News, Hirsch's lawyer told the judge that "he and his client have been talking to the state about a potential plea deal that would allow Hirsch to possibly avoid jail time, although nothing is set in stone yet."

His preliminary hearing is scheduled for August 17. [E! Online]
---
Brittney Griner was aware of wife Glory Johnson's pregnancy, but did not expect her to make the news public yet. [TMZ]

Sons of Anarchy's Theo Rossi and Meghan McDermott had a baby. [E! Online]
Macklemore also probably had a baby. [E! Online]
Here's what Kim and Kanye won't be naming their baby. [Celebitchy]
Here is Carrie Fisher's baby, all grown up and appearing in the new Star Wars movie. [People]
This is the end of Baby Bag.
---
Contact the author at madeleine@jezebel.com.
Images via AP