Don't call Kylie Jenner's family or friends names.
On Monday, the website x17 Online sent a particularly dumb tweet that referenced Kylie's sister Kendall Jenner and friend Hailey Baldwin. The site tweeted a photo of Justin Bieber strangling Chris Brown (yes, that photo) and tagged Kendall and Hailey, along with the accompanying text: "@justinbieber and @chrisbrown hang with their hoes @haileybaldwin @KendallJenner
If you're trying to make sense of that tweet or the article it links to, don't bother because it seriously out of Incomprehensible Bullshit Land:
Ho, ho, ho! Looks like it's going to be a very Merry Christmas for Justin Bieber and Chris Brown — who were getting in the holiday mood with their rumored pieces Hailey Baldwin and Kendall Jenner. The foursome were chillin' and illin' in Washington after Chris' show. We have a feeling this fantastic four is up to no good!
(You just know shitty web writers wait all year long to bust out the "ho, ho, ho" jokes about women at Christmas time, yeah?) Turns out, Kylie wasn't really in the mood for this shit (neither are any of us) and tweeted them back:
G/O Media may get a commission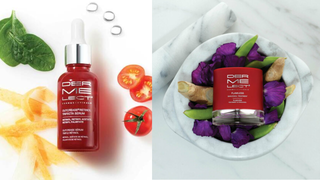 Save $19
Retinol Renewal Kit
Cosmopolitan questioned if this was a real defense of her sisters or just a reminder that sexually empowered women can reclaim the term "ho" but sleazy websites looking to make cheap comments need to stay the fuck away from using the term in a derogatory manner, thank you very much.
[ Cosmo]
---
TRY NOT TO FREAK OUT but Beyoncé updated her Tumblr and added a bunch of fashion-y pictures of her dressed in clothes I will never be able to afford.
Plus, she included this adorable picture of Blue Ivy, just walking around mommy's fashion shoot having a goddamn blast.
---
Are you guys excited about the final season of Glee? ::crickets:: What if I told you that the show will feature a Glee rendition of "Let It Go" from Frozen? ::crickets roll their eyes:: [EW]
Jennifer Lawrence is dating someone who looks like Chris Martin. This obviously means she is distraught and desperately trying to cling the memory of a failed relationship that her fragile heart can't get over and not that she just has a certain type of dude she likes to date. [Daily Mail]
Seth Rogen and James Franco have apparently decided to cancel any future media appearances for their new film The Interview following threats made in connection to the Sony hack. [Gossip Cop]
Tyler Perry has lots and lots of thoughts about being a new dad. [People]
Dave Navarro opened up about the murder of his mother and aunt, who were both killed by his mother's ex-boyfriend. [HuffPo]
TMI, Marlon Wayans. [Hollywood Life]
Friends fans, I hope you all know that on Jan. 1 you'll be able to get all seasons of the show on Netflix. But don't feel bad on spending hundreds of dollars to buy them all on DVD last Christmas. [Vulture]
Jim Bob Duggar is just thrilled that people want his show cancelled because it promotes a lot of LGBT fear mongering. [E]
Oh no, Mel B may have moved out of the home she shares with her husband Stephen Belafonte after he reportedly abused her. [Us Weekly]
Here is a picture of pregnant Blake Lively cooking with Top Chef season three winner Hung Huynh. There are several things you need to know about this photo. Huynh is using a cutting board in the shape of a map of America (OF COURSE SHE HAS THIS) and—CONTROVERSIAL OPINION ALERT—he is my favorite Top Chef winner ever. [Instagram]
The end is nigh for Kim Kardashian and Kanye West because he "bailed" on her. [Radar]
North West read the list of extravagant gifts her father had planned to lay at her feet, slowly crumpled it up, tossed into the great fire that warmed her in her massive throne room and watched it burn. [Gossip Cop]
Here are a million pictures of my husband, Daniel Craig, standing on a boat wearing a long coat and waving to people while filming a scene for the new Bond film Spectre. [Just Jared]
Speaking of Bond, here is the world's greatest band ever doing the theme from 1985's A View to A Kill because there will never be enough reasons for me to share Duran Duran videos with you guys:
Image via Getty.