Kylie Jenner did what Kylie Jenner does nearly every day: she posted pictures of herself on Instagram. But two of the photos she posted yesterday had many accusing her of posing in blackface. The photos feature Jenner covered in metallic makeup and shot under a black light.

In the first photo, she tagged her team of stylists, she later changed the caption to "This is a black light and neon lights people lets all calm down." A second photo, which Jenner later deleted, was captioned "What I wish I looked like all the time." Never one to miss an opportunity, Jenner posted a third image from the photo shoot with the caption "goodnight."
Here are the photos:
And here's the deleted photo:
G/O Media may get a commission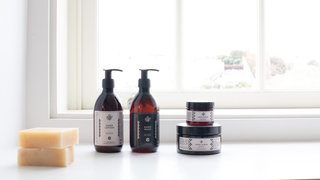 Exfoliate and Hydrate
The Handmade Soap Company
[E!, Instagram]
---
Speaking of reality show celebrities who love selfies, Real Housewife Kim Zolciak is tired of people commenting on her thick legs. She posted a selfie with this message:
Yes I have thick or as some of my followers call them "chunky" legs (Rude Ass People) always have and I love them that way! I love every inch of me and it's evidence some of you don't. It's truly disheartening to see some of your comments because My kids see this stuff and I'm appalled. I guess it's time I stop posting personal pics of myself as well as my kids since some of you last night and today commented rudely about them. #GodDon'tLikeUgly
The threat appears to have been short-lived, Zolciak has since posted a handful of selfies and a family portrait. What a tangled web of Instagram selfies celebrities weave. [E!]
---
Gwyneth Paltrow bought the Hollywood Hustler store that, according to TMZ, "she'll bulldoze and then build a fancy schmancy private club." There will be poetry readings at the fancy schmancy club. Who's ready for Gwyneth the poet? [TMZ]

Ellie Goulding and her boyfriend celebrated their love by getting matching tattoos. [Just Jared]

Hilary Duff got drunk on margaritas and took a bikini selfie. [Us Weekly]

Taraji Henson and Michael Strahan are dating, maybe. [Radar]

Giuliana Rancic wants you to know that Jerry O'Connell cheated on her with Ginger Spice. [Page Six]

One Direction speaks. [Us Weekly]

Bob Burns, the original drummer for Lynyrd Skynyrd, died in a car accident. [People]

Sarah Jessica Paker's daughters are adorable. [Daily Mail]

January Jones' son doesn't think she's very cool. [People]
Lastly a joyous Easter wish from Meghan McCain:
Images via Getty.