Is Kylie Jenner a closeted Taylor Swift fan? The 21-year-old revealed on Instagram that a new lip gloss in her Valentine's Day lip kit is named "Story of Us" and a lip liner, "Forever and Always." It's either a total coincidence, or Jenner was just recently listening to Swift's seminal album Fearless.
The potentially cryptic lip kit rollout comes less than two weeks after Kim Kardashian-West declared she was "over it," between sips of her drink on What What Happens Live—the "it" being her long-simmering beef with Swift. "I feel like we'd all moved on." Case closed!
Did Kardashian-West clear the air for Jenner to come out as someone who likes to belt out "You Belong With Me" in the shower? Jenner could be tipping her hat to Swift for penning A+ breakup ballads, or she could have just been searching—as Swift presumably did at the time of songwriting—for phrases that invoke love, destiny, and a whirlwind romance. Except in Swift's case, she was looking to subvert these cliches through extended metaphor, and Jenner is using them to sell makeup. Each of us contributes to the world through our own special talents. Kylie, if you do like some Taylor Swift songs, just drop another hint on Instagram—it's fine.
[People]
---
Though they have yet to publicly announce their relationship, Jeff Bezos and Lauren Sanchez are really, really great. Just about two weeks after Bezos announced he was splitting up with his wife Mackenzie (and after his alleged texts with Sanchez were leaked, all but confirming that they're dating), Bezos and Sanchez are planning on moving in together. Both are getting divorced, and Bezos's is probably going to take awhile, since he is the richest man in the world.
G/O Media may get a commission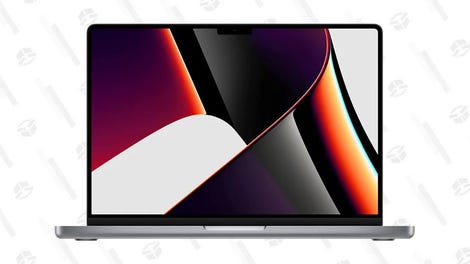 Save $300
2021 14" 1TB MacBook Pro
If all of this seems fast, it's not for them. MacKenzie and Patrick Whitesell, Sanchez's husband, reportedly found out about Bezos and Sanchez's relationship way before the public did. A source said of Bezos and Sanchez: "Their families dealt with this in the fall. The world is catching up to it, but it has had zero impact on their relationship. They've never been stronger." Hopefully that's true of their exes, too—best of luck to MacKenzie in her divorce.
[People]
---
An earnest Beyoncé gram, rarer than a super blood wolf moon:

---
I'm starting a support group for anyone else who didn't know Shia LaBeouf and FKA Twigs were dating. They're at Sundance this weekend. [Page Six]
Nothing and no one can stop Celine Dion from having an amazing time in Paris. [Just Jared]
How many people were invited to Orlando Bloom's birthday party? That's a lot of cakes. [The Blast]