If Krystal Ball wins her congressional race in Virginia, she'll be the youngest female congresswoman. She'll also be the first to win after photos surfacing of her jokingly sucking a dildo on her husband's nose. But hopefully not the last!
Amanda Hess wondered if Ball was taking a lead from that study showing that while sexist insults hurt a female candidate, calling them out as such helps win her points. In fact, it turns out she was directly inspired by it, she writes in The Huffington Post.
It's why Ball, 28, is taking control of the situation, doing national media to convey a message about the double standard and how her treatment in the press might inhibit other young women from running for office. And let's face it, there's a question this election season has forced us to ask: What's worse, a dildo-nosed reindeer costume on your ex-husband, or putting on a Nazi uniform yourself?
(Incidentally, her HuffPo oped offers a partial explanation of her name: "My father has a Ph.D. in physics and did his dissertation on crystals. Fortunately or unfortunately, my mother allowed him to name me and so he chose the name Krystal Ball." But why the "K"??)
She also appeared on Dylan Ratigan's MSNBC show:
G/O Media may get a commission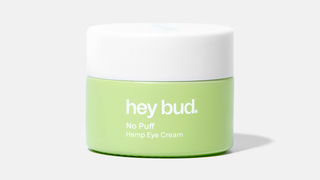 15% off
Hey Bud - No Puff Hemp Eye Cream
In her op-ed, Ball wrote about being inspired by Hillary Clinton and even Sarah Palin (just the part about being a young mother in politics) and the battles earlier generations of women fought. But she says she didn't feel she got support from Clinton's "Sisterhood Of The Traveling Pantsuits":
I wondered, was it because they felt I hadn't paid my dues? Was it because they were worried, that with my relative inexperience, men wouldn't take me seriously and I might enforce the stereotypes they had worked so hard to break down? I was often told to cut my hair, to wear shorter heels, to dress in drab colors. I realized it was actually because they wanted to protect me. They did this because, for their generation, female sexuality was dangerous to display in the workplace, especially in politics.
Of the pictures themselves, Ball says, "I don't believe these pictures were posted with a desire to just embarrass me; they wanted me to feel like a whore." But as it turns out, she says, it helped her gain support as well as notoriety — including from those older women whom she'd felt previously shunned her:
They will not see their daughters called whores when they run for office just because of some college or post-college party. They will not watch the tide of everything they fought for washed away by the public exposure of female sexuality.
It's a sort of inversion of one of the points made in Rebecca Traister's book. She wrote about how some younger women seemed to feel more passionately about Hillary Clinton when they saw the sexism with which she was often treated. In this case, these unnamed older women warmed to the younger Ball when she experienced — and called out — similar treatment. Traister also argued that the Clinton campaign suffered by not galvanizing those young women any early. It may or may not make the difference in this particular race, but Ball seems to have drawn the right lessons from that past.
The Next Glass Ceiling [Huffington Post]
Earlier: Congressional Candidate Krystal Ball's Sexy Santa Problem