Kristin Scott Thomas is 53. Sharon Stone is 55. Both are beautiful, accomplished actresses, but they have very different thoughts about aging.
Scott Thomas is having a rough time of it. She finds herself on screen in supporting roles, while women in their twenties or thirties get the lead role. "You're watching yourself get old, on a screen that hides nothing," ABC News reports she laments in Stella. She also finds that in general, society dismisses women of a certain age:
"I'm not talking about in a private setting, at a dinner party or anything," she told Stella. "But when you're walking down the street, you get bumped into, people slam doors in your face – they just don't notice you. Somehow, you just vanish."
Scott Thomas found herself considering plastic surgery:
"At the Cannes Film Festival I got such a shock… I saw lots of my contemporaries there this year, all looking so beautiful and gorgeous and healthy, and I just felt like an old ragbag next to them. I just thought, 'Maybe it's time to do something about it, like a facelift.'"
G/O Media may get a commission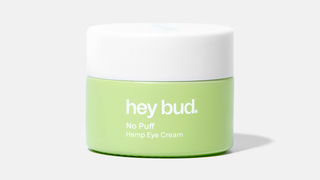 15% off
Hey Bud - No Puff Hemp Eye Cream
Meanwhile, Sharon Stone is enjoying her age: According to ABC News, she tells New You: "We know so much at this age, and people realize we're the ones with experience. We're a very colorful generation that is leading once again."
She adds:
"I thought I lost the deep vortex on my eyelid that you have when you're younger, but I gained almost a kind of beautiful abyss. As I lost the fullness in my face, I got in these great cheekbones," she said. "I can't tell you how many doctors try to sell me a facelift. I've even gone as far as having someone talk me into it, but when I went over and looked at pictures of myself, I thought, "What are they going to lift?"
And:
"I have come close – but, frankly, I think that in the art of aging well there's this sexuality to having those imperfections. It's sensual," she said. "[But] I don't think there is anything wrong with cosmetic surgery at all. I think it's great. But I don't think it's alright to distort yourself.

You can't treat an illness with cosmetic surgery, and that's why it would be great if there were qualified therapists in plastic surgeons' offices, and that people would go to a therapeutic meeting before plastic surgery," she added. "I think that should be part of the FDA requirement."
While there's no right way to feel about aging, it's interesting that Stone — whose fame was built on a sexualized, bombshell image — seems more confident than Scott Thomas, who is more known for her serious acting chops and brains (she's fluent in French and does Chekhov plays).
But it's worth wondering why these women even have to talk to magazines about looks and aging. Would the same questions be asked of Robert De Niro or Morgan Freeman? Scott Thomas surrenders to the gender issue thusly: "It's a cliché, but men grow in gravitas as they get older, while women just disappear."