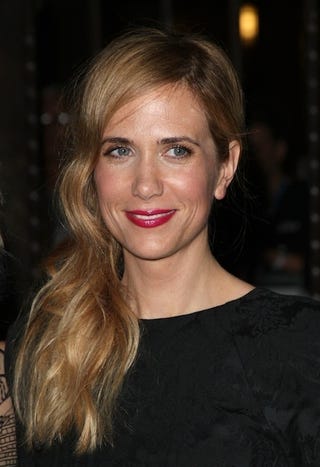 Is Kristen Wiig SNL's next breakout star? And has Judd Apatow learned anything about female characters? Warning: weddings are involved.
The as-yet-untitled project will be Wiig's first starring role — welcomed by anyone who thought she stole every scene in Adventureland and Whip It!. It'll be directed by Paul Feig, who created Freaks And Geeks, and produced by Apatow, who was a writer and director on that show. Per Variety:
Studio, which is fast-tracking the project for a possible spring start, is keeping the logline [plot summary] under wraps, but it is described as revolving around women competing to plan a friend's wedding party.
I want to have faith in this team, I do. So I'll give them the benefit of the doubt and banish all specters of Bride Wars. This won't be like that, right? Right?
Apatow, Feig Reteaming On Wiig Pic [Variety]
Earlier: Most Overused Romantic Comedy Cliches Of The Decade