In a new interview with Elle UK, Kristen Stewart—who's been dating girlfriend Alicia Cargile on and off for years now—plainly and publicly discussed her sexuality for the very first time.

While Stewart has never tried to hide her relationship with women, she's also never come out "officially" or released a statement regarding her bisexuality (nor should she have to).
"Google me. I'm not hiding," she told Nylon in August 2015, referring to the many photos you can find on the internet of her and Cargile hanging out and holding hands.
She added:
"If you feel like you really want to define yourself, and you have the ability to articulate those parameters and that in itself defines you, then do it. But I am an actress, man. I live in the fucking ambiguity of this life and I love it. I don't feel like it would be true for me to be like, 'I'm coming out!' No, I do a job. Until I decide that I'm starting a foundation or that I have some perspective or opinion that other people should be receiving…I don't. I'm just a kid making movies."
G/O Media may get a commission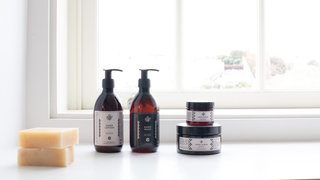 Exfoliate and Hydrate
The Handmade Soap Company
Now, however, she's decided to speak on it more directly, telling Elle UK:
"When I was dating a guy [Jez note: Robert Pattinson, presumably] I was hiding everything that I did because everything personal felt like it was immediately trivialized, so I didn't like it. We were turned into these characters and placed into this ridiculous comic book, and I was like, 'That's mine. You're making my relationship something that it's not.' I didn't like that. But then it changed when I started dating a girl. I was like, 'Actually, to hide this provides the implication that I'm not down with it or I'm ashamed of it, so I had to alter how I approached being in public. It opened my life up and I'm so much happier."
On her relationship with Cargile, Stewart says, "I think also right now I'm just really in love with my girlfriend. We've broken up a couple of times and gotten back together, and this time I was like, 'Finally, I can feel again.'"
Kristen, I am happy when you are happy.