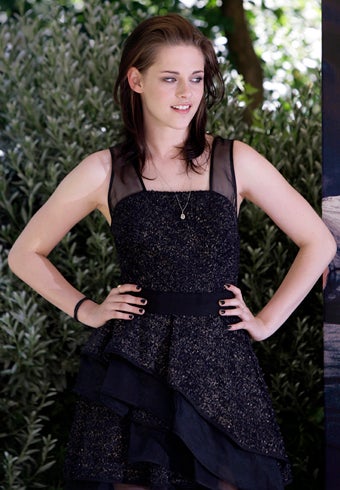 Kristen Stewart gets labeled glum, sullen and morose. Some even claim she never smiles, which has been disproven. And at a publicity event for Eclipse, KStew was actually excited when talking about Breaking Dawn:
"It's such a crazy concept… I'm going to be playing a wife and a mother and a vampire. I haven't read the scripts… [But] I'm really curious as to what I'm going to be doing in the next six months.
Perhaps there's a sense of relief stemming from the fact that she won't have to spend her time moping anymore? In fact, it seems that Kristen secretly wishes she were a vampire instead of boring old Bella: "Gosh, you open your eyes to this different world, right?" she said. "That would be amazing." And just wait til your fetus is chewed out of your uterus by your baby daddy!
Stewart Picks Fourth 'Twilight' Movie Ending [NY Post]
Earlier: Will Twihards Be Denied Bloody Birth Scene?