Kris Jenner, who weaves the fabric of our reality, also borrows her daughter's clothes.

Page Six has it that on Wednesday Jenner was spotted in New York City with her boyfriend Corey Gamble, and she was wearing a $980 turtleneck straight from Kim Kardashian's closet.
So they speculate.
This is the top, for reference, and the Page Six story also shows Jenner wearing it.
What can I say, the family that does product placements together stays….obscenely rich? Maybe that's "why." In that case, what difference does it make if it's the same sweater or a brand new one?
G/O Media may get a commission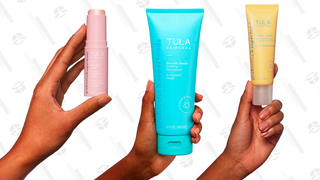 I'm so sorry but I believe the real question is "What was Prada thinking?"
[Page Six]
---
A judge ruled on Wednesday that Joe Giudice, husband of Real Housewives of New Jersey star Teresa Giudice, will be deported to Italy when he has completed his three-year prison sentence for fraud. Joe, a permanent United States resident and native of Italy, is reportedly set to be released in March.
Various past and present RHONJ co-stars reacted to the news. Amber Marchese, for instance, told E! News:
"I think everyone feels for the kids, they are far too young to live such instability, and most importantly without a father. Listen, it might not be ideal, totally life altering, and it will definitely be a major adjustment, but in the whole grande scheme of 'sucky news' that someone can receive, this is not all that bad! He isn't banished to the pits of hell, this is beautiful Italy we are talking about here. The question is, is Italy ready to take on one of our own crazy 'Jersey house husbands' full time. In all seriousness, they have been through hard times, I know they will turn this around and make these soar grapes into amazing Italian wine."
[E! News]
---
Amber Rose on Kanye.
[Page Six]

---
Why on earth would Sofia Richie and Kourtney Kardashian ever need to be friends in the first place? [Hollywood Life]
It's really hard to develop a grasp of just how famous Taylor Swift when your mom is Julia Roberts. [People]
Reporters are spying on Bradley Cooper and Irina Shayk's dining behavior. Results are not good. [Page Six]