Jugs. Sometimes you're born with 'em; sometimes you acquire a pair through the skillful hands of a cosmetic surgeon.
Bruce Jenner is in the latter category—allegedly—says Radar. And someone from the former category by the name of Kris Jenner is none too pleased—allegedly—about Bruce's theoretical decision to get implants (silicone, if you're curious).
As someone who has a love/hate relationship with her own breasts—and overall, happy to have them around—I don't get what the fuss is about. Some people live their lives a quarter mile at a time; others go for cup sizes, I guess.
[Radar]
---
G/O Media may get a commission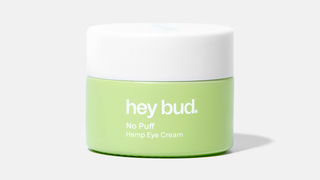 15% off
Hey Bud - No Puff Hemp Eye Cream
Kim Kardashian: Hollywood! just got a whole lot cape-ier: André Leon Talley has been cast as an accomplice to Ms. Kardashian in the mobile app/game. He's also looking a bit...slender...in his avatar, but what I'm really impressed by is the expert digital application of highlighter in the inner corners of the eyes, and along the brow bone, of Kim's cartoon, proving that the need to look wide-awake is not just a condition that affects humans.
---
Speaking of waist training: Dakota Fanning had a bit to say about the corsets she wore for her role in Effie Gray in an interview with Variety, in that they suck are difficult to wear.
"The corsets were pretty tight, so that was difficult sometimes," Fanning confirmed. "But it really helps take you back to that place, so you sort of feel like a different person, and you feel like you're in a different time — you don't even feel like yourself!" That's how I feel, too, when I can't eat, pee or breathe normally. [Variety]
---
•Lupita Nyong'o looks like a happy, glowy, spring flower on the cover of Harper's Bazaar UK. [Harper's Bazaar UK]
•Meredith Kercher murder suspect Rafaelle Sollecito is a sad panda, so he did what anyone acquitted of killing another person would do and went shopping for a six-figure car. [Daily Mail]
•Grown-ass man Justin Bieber counts Kanye West and Rick Rubin as producers on his upcoming album. [Rolling Stone]
•Nicki Minaj hung out with Princess Diana's nephew and everything is cool, guys. [USA Today]
•Jay Z had better not Monica Lewinsky all over this dope-ass dress Yoncé wore while on the prowl in New York. [Daily Mail]
•Speaking of Hova: is Tidal even worth the dough, though? [Wired]
•Hilary Duff wants you to stop worrying about what other people think, already! [VH1]
•Chris Brown is trying to reconcile with Karrueche, and I speak on behalf of everyone who monitors celebrity gossip for a living and say NO, girl. Just say no. [Bossip]
•Amber Rose and Blac Chyna sure like attention. [TMZ]
Images via Getty and AP