Most people don't think of kosher laws as extending to the bedroom — but the website KosherSexToys aims to make the sex-toy buying process more comfortable for Orthodox Jews.
What does that mean, exactly? Allow the folks of KST to explain:
KosherSexToys.net's mission is to provide married adults with products that can help enhance their intimate moments without involving crude or indecent pictures or text. Every product we provide –- unlike those in many other online stores –- is sent to you without any crude packaging or accompanying materials. Our website –- while obviously only for married adults –- contains no crude or indecent pictures or text. We believe that only two people belong in the bedroom –- and bringing pictures of others in can only harm a marriage.
The site also notes that "when we need to use descriptive terms for our products, we use clinical and clean language." This is evident in its product descriptions — "Stud 100 Male Genital Desensitizer" is billed as "an easy to use spray on product that will help any male last longer making intimacy more pleasurable to both husband and wife," while a "Vibrating Stimulator" boasts "a long soft shaft with rows of beads for extra stimulation and an extension for stimulation of body parts not reached by penetration of its main shaft." This last isn't so much clinical as amusingly vague, but we get the picture.
Sex advice and toy sites are relatively common in the Christian community. Book 22, for instance, offers "intimacy products for married couples." They're much less shy about description than KST is: their "Romance Intimacy Kit" includes "Nippleicious Nipple Arousal Gel" and "Happy Penis Massage Cream." Sex sites for the Orthodox Jewish market have been less visible, but there's clearly a market: Rabbi Shmuley Boteach tells the Post (via Gothamist), "Orthodox Jewish couples are taught, once they get engaged, to have phenomenal, shout-out-loud, swinging-from-the-chandelier sex." KosherSexToys doesn't appear to offer a chandelier — yet.
G/O Media may get a commission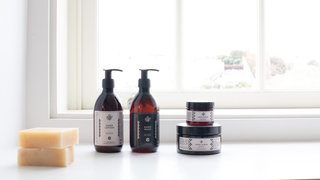 Exfoliate and Hydrate
The Handmade Soap Company
Orthodoxxx Jews Selling "Kosher" Sex Toys [Gothamist]
Image via maxstockphoto/Shutterstock.com