Articles about sexual assault allegations against two musicians— Victor Vazquez, also known as Kool A.D., of defunct hip-hop group Das Racist and Jesus David Torres, also known as Dahvie Vanity of the scene band Blood on the Dancefloor—were published Tuesday at Pitchfork and the Huffington Post respectively. While the allegations attracted the attention of mainstream press this week, rumors of the sexual misconduct of both Vazquez and Vanity were well known and well documented on Tumblr in the early and mid-2010s.

Pitchfork reports that four women have accused Vazquez of sexual assault, including his estranged wife Saba Moeel who says their first sexual encounter was non-consensual.
"Our first time was at his parents' house, and I told him straight up, 'We can hook up, but I don't want to have sex tonight,' and he said, 'OK,'" she said. "He did it anyway, and I just froze, and he was like, 'Oh it's OK, just for a little bit.'"

She also said that he forced her to perform oral sex on him without her consent during a New Year's party at a friend's house in 2011 or 2012. "He basically made me give him head while I was super drunk and wanting to throw up and go to the bathroom, and then spent the whole night with me by the toilet as I threw up," she said.
Mooel and Vazquez have a daughter together. In February, Mooel tweeted, "If anyone treated my daughter the way I have been treated I would snap their necks in an alley and feel good about it," part of a series of tweets in which she brought to light the alleged misogyny, manipulation, and rape she experienced at the hands of men in the music industry, including Vazquez.
Mooel told Consequence of Sound, "I was putting distance between myself and my abusers, and I felt that if I told enough people what happened, they would be there to remind me in case these people came back."
G/O Media may get a commission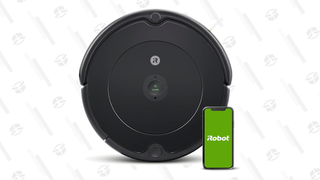 35% Off Black Friday Deal
iRobot Roomba 694 Robot Vacuum
Pitchfork noted that there are three other rape allegations against Vazquez, between 2006 to 2013. (Vazquez denies the allegations.) One allegation accused him of aggressively kissing and performing nonconsensual oral sex on the victim in 2013. Two years later, Mooel found out about the allegation against her then-husband via a "social media post." Pitchfork didn't specify the platform, but Tumblr was once a hub for aggregated accounts of sexual misconduct accusations against both celebrities and private citizens. This includes Das Racist, whose crew were accused of groping and creepy behavior according to a Tumblr post from 2012; another Tumblr post from 2017 calls Vazquez a rapist.
Tumblr in the early to mid-2010s popularized the then-unpopular act of calling out one's "faves" online. This trend doubled as a vehicle for sexual assault survivors. It became a digital whisper network for people to tell their stories and garner support before the mainstreaming of the MeToo movement or any Shitty Media Men list. These posts were reblogged, appearing on the Tumblr dashboards far removed from a given fan base or social circle and shared as an act of sincere awareness spreading for some and performative, self-aggrandizing wokeness for others.
This guerrilla approach is the primary reason why the Huffington Post's report on sexual assault allegations against Dahvie Vanity (David Torres) of Blood on the Dancefloor may come as no surprise to those who frequented Tumblr at its peak: Torres's transgressions made the rounds years ago.
HuffPost spoke to a dozen women who said Torres sexually assaulted them between 2006 and 2015. We also spoke to a girl, now 16, who said Torres started grooming her when she was 13 and he was 30. Most of the women said they were under 18 at the time of their alleged assaults. Many recalled being yanked by their hair and forced to perform oral sex. Others said Torres molested them at his shows. One woman said he anally raped her in a hotel bathroom. None went to the authorities, but all described a pattern of abuse that has left them traumatized years later.
Rumors about Torres's predatory behavior with underage fans were documented in a Tumblr blog called The Truth About Dahvie Vanity, which was made in January of 2013. From the blog's description (emphasis mine):

This blog is a collection of stories about the lead singer of the band Blood on th [sic] Dance Floor, Dahvie Vanity. He is looked up to by his fans as a hero, a crusader against bullies, a role model, someone who "saved their lives." But there have been too many stories of abusive behavior, sexual misconduct with fans (some of which have been underage), and bullying for people who aren't dazzled by his "charms" to turn a blind eye to. So this blog is dedicated to signal boosting all of these accusations. Keeping them in one place makes it more difficult for people to write off.
One of the Tumblr account's earliest posts is titled "Dahvie Vanity Allegation Roundup," which acts as a master list of receipts exposing Torres, ranging from arrest records, text message screenshots, and a host of testimonies about Torres's verbal, physical, and sexual abuse, sourced from Tumblr and Twitter users. It's a source that supplements the nauseating claims gathered by the Huffington, further validating the depiction of 34-year-old Torres as an aggressive man who takes advantage of star-struck, underage fans.
It would be a mischaracterization to claim that public charges were never challenged on Tumblr, or that those who spoke out weren't harassed. But Tumblr's ecosystem was somewhat more insulating than, say, Twitter or Reddit, and it was a faux pas to be openly skeptical of survivors in several active Tumblr circles. Sometimes, whispers and rumors are just that, but Tumblr provided a unique platform where sexual misconduct claims against popular, famous, or celebrated people were compiled, consumed, and spread with relative ease. Now's the time to play catch up.