Kobe Bryant's wife, Vanessa, filed for divorce today. According to TMZ, Vanessa left because Kobe couldn't stop cheating on her. He was, of course, charged with sexually assaulting a woman in 2003, and Vanessa famously stood by him then. But a new incident was apparently what drove her to leave, a source says,
She's been dealing with these incidents for a long time and has been a faithful wife, but she's finally had enough. This one is the straw that broke the camel's back.
The couple has been married for ten years and has two daughters. She is asking for full custody of them—though Kobe would have visitation rights. Plus, there was no prenup, so she's entitled to half of everything the Lakers' star has. Kobe, no surprise, is upset and wants to try to win her back. So upset that he went to a Jay-Z concert early this week and reportedly "looked miserable" while there. [TMZ]
---
On the other end of the marital spectrum, the alleged engagement of Britney Spears is now a 100% official engagement. Her fiancé, Jason Trawick, confirmed today on Access Hollywood that the pair is headed to the altar. [Yahoo!]
G/O Media may get a commission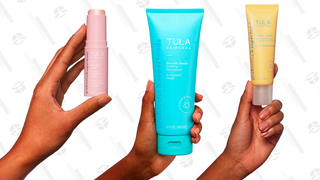 The engagement ring will be unveiled to the public at some point later tonight, but Britney decided she wanted to hold a "private gathering" in Las Vegas so that all of her friends and family could see it first. Her courtiers will line up to kiss the ring, and anyone who speaks ill of it will be beheaded. Just kidding! Everyone is being treated to a big celebratory dinner and dance party after the ring viewing. [TMZ]
Meanwhile, details of the ring have started to make their way out. It's been confirmed the that Neil Lane designed it, and, according to his rep, Trawick worked with them to create Britney's "dream ring." It is described as "classic, simple and beautiful," and so far it seems like it has a round four-carat diamond and micro pave diamonds on the band. [E! Online]
---
Some sad news from the world of music: legendary singer Etta James is very sick. She has been in ill health for several years, but her live-in doctor now reports that she is "terminally ill." James, who is 73 years old, has chronic leukemia, which has been declared incurable. She also suffers from dementia and kidney failure, among other things. Her doctor, Elaine James (no relation), says she's telling people about Etta's condition now so that they will pray for her. But James' sons, Donto and Sametto, said today that they weren't sure the "terminally ill" diagnosis was right and that Dr. James had announced it without the family's permission. They are currently in a battle with their stepfather over conservatorship of James's estate, and they say James should be in the hospital, rather than under the care of a doctor in her home in California. [Reuters]
---
Daniel Craig is urging you to leave your children at home when you come to see him in his dark new movie, The Girl with the Dragon Tattoo:
It's a great story. It's an adult movie. The babysitters are going to get, hopefully, a lot of money out of this film. That's why I wanted to get involved.
Daniel Craig, doing his part to keep the babysitters of America working! [MTV]
---

Speaking of Daniel Craig, his costar Rooney Mara has some unkind thoughts about a role she once had in an episode of Law & Order: SVU:
It was so awful. So stupid. [In the episode] me and my boyfriend—although I don't look old enough to have a boyfriend—went and beat up these fat people, and at the end of the show you find out that I used to be obese and I hate fat people. It's ridiculous.
Damn, girl. Looks like you just forfeited your chance to be on the "Stars of Past Episodes" special that they will no doubt make when the series finally dies in 2042. [OMG!]
---
Say whatever you want about Scarlett Johannson's personal life, just don't call her ScarJo. According to a new interview in USA Today, she does not appreciate the abbreviation: "Oh, it's awful. It's a laziness. People can't actually say the whole name? It's just bizarre." And somewhere Scarlett's biggest fan weeps quietly, his tears falling down on the giant "ScarJo" he has tattooed on his pectoral muscle. But seriously, does this mean I am going to have to type all 17 letters of her name out every time she does something newsworthy? Harumph. [USA Today]

As if its jam-packed nights of toddlers, tiaras, virgins, couponers, and other human oddities wasn't enough, TLC has now expanded its lineup to include a teen superstar. They've landed the U.S. rights to a one-hour Justin Bieber holiday special! Originally made in England, the show went behind the scenes with the Biebs and also has him singing some holiday jams. Commence setting your DVRs immediately. [EW]

Tom Cruise is always on the lookout for new movie talent, and it appears he's found his next muse in…David Beckham? Cruise has generously offered to help him get his foot in the door of filmmaking. "I'd love to do action movies with Beckham. He would be great, he could kick ass," says Tommy. But that kind of help doesn't come for free. If he's going to go to all the trouble of casting Beckham, Cruise expects a little something in return: "David would have to teach me to play soccer first." Naturally. [Mirror]

Sandra Bullock is coming back to show business—even though it feels like she never went away—with her new role in Extremely Loud and Incredibly Close. But in the movie, she only has 24 minutes of screen time, which she says is just fine by her:


I've already had those moments [as a leading lady], I think. I mean, there might be more, I don't know, but I don't know how many moments and opportunities like this there'll be — with stories like this, with directors and casts like this — It's like the rare moments in life where all the elements are there, and they all come together for some strange or bigger reason. You can't say no to that.

Indeed you cannot, but let us pray that she doesn't give up on being a leading lady altogether. [HuffPo]

Having failed to expend all of his partying energy whilst in the United States, Prince Harry continues to hit the clubs now that he's back in England. Last night, he was even in the same building as Gwyneth Paltrow, though there is no word on whether the two exchanged pleasantries. [E! Online]

Zooey Deschanel is freaking out about meeting Tina Fey at the Golden Globes and jokes that she might "creep out a little bit," but of course she'll do it in a way that is too adorable for security to ever drag her away. [E! Online]

On an upcoming episode of E!'s True Hollywood Story, Timbaland is revealing his true feelings about the late singer Aaliyah:


When I first met Aaliyah—it time for the world to hear this, I'm gonna give a little secret—I was in love with her. I said, But I'm not…She just a baby, I'm old. I said to myself, "I'm just gonna be her brother." Oh man, I was fightin', I was fightin' a lot-a big war. But I loved Aaliyah.

He was wise to keep his feelings to himself, since he in his mid-20s when they worked together, and she was just a teenager—though she had already allegedly been married to R. Kelly when she was 15. [E! Online]

Though he's already been in the previous Chipmunks movies, David Cross really did not enjoy his time working on the third one, Alvin and the Chipmunks: Chip-Wrecked.


This last film was literally, without question, the most unpleasant experience I've ever had in my professional life. It's safe to say I won't be working with some of those people ever again. Not the actors. And the director [Mike Mitchell] was great. We got along. There were a couple of people, though…it was just a really awful, unpleasant experience.

It must be a relief to him, then, that his three-movie contract is now up, and he will no longer have to speak to another Chipmunk for as long as he lives. [Indiewire]

Viola Davis adopted her daughter Genesis in October, and she already has grand plans for her romantic future. She's joking that she's going to set the 16-month-old up with Sandra Bullock's son, Louis, who is almost two.


Oh yeah, I'd absolutely love to set her up with Louis. That kid is so cute. He's going to be a bruiser. But let's try to get a play date in first. If they are ever in the same place, we'll get them together.

Obviously their celebrity toddler connection will be instant, and we'll soon be treated to photo shoots of their adorable playground romps and delightful sharing of snacks. [People]

How I Met Your Mother actress Allison Hannigan and her husband Alexis Denisof are pregnant with their second baby. [Us Weekly]

It's Always Sunny in Philadelphia star Charlie Day and his wife Mary Elizabeth Ellis have a new baby son. Russell Wallace Day was born yesterday (literally!) and weighed in at 7 pounds, 13 ounces. [People]

Music producer and wild-and-crazy-hair-guy Phil Spector is going to file an appeal to the Supreme Court over his 2008 conviction for the murder of actress Lana Clarkson. [CNN]

Joe Simon, comic book writer and co-creator of Marvel's Captain America, died Wednesday at the age of 98. [E! Online]