We're more than aware that jerks exist in every corner of the Internet. Yet when they turn to Yelp, they're so darn entertaining. After the jump, our six favorite kinds of hostile (and occasionally friendly) Yelp reviewer.


The Curmudgeon
On Saltie, Brooklyn:
First of all, the foccacia bread was ridiculously large and tough, which resulted in my having to remove the top slice all together and eat the thing open-face style. I mean, how big are our mouths expected to be?! The top-less sandwich managed to be pretty tasty though, but nothing to totally write home about. It should be mentioned that the tiny little stools are darn near impossible to sit on, so don't expect to be comfortable while you eat your awkward sandwich.

The cookie was decent in a sort of joyless crumbly kind of way
On Pinz Bowling Center, Sherman Oaks, CA:
If you like snooty teenagers who can't bowl worth a shit, this is the place to be.
The Stickler
On Blue Hill, Manhattan:
Sweet Corn Ravioli: I think this dish is named incorrectly. The real star of the dish is the pork belly, not the sweet corn ravioli. When the plate came, it was difficult to see the ravioli, as it was hidden underneath the numerous large chunks of pork belly.
G/O Media may get a commission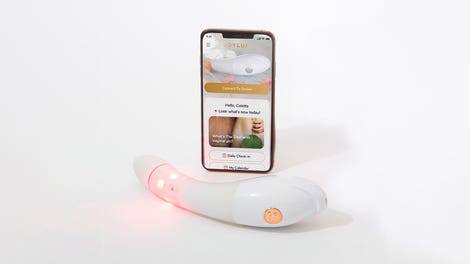 $50 Off
Joylux vFit Gold Device
On Seascapes fish and reptile store, Mountain View, CA:
Their eel tank needs to be cleaned... I'm sure they carry lots of other cool stuff, but I'm a fan more of turtles than anything else, so I didn't really pay much attention to anything unrelated to turtles.

The Aspiring Restaurant Critic
On Friend of a Farmer, Manhattan:
The weekend ritual of brunch is a fundamental pillar of NYC society, much like the Yankees, mutant subway rats and a loud disdain for Times Square. For the avid brunchophile, Friend of a Farmer serves up delicious fare in a homely, neighborhood setting reminiscent of a country cottage. For good things, sometimes you have to wait, and the wait here at peak brunch hours can get quite unwieldy, so it's best to arrive dressed appropriately as you'll be standing outside for at least a good half hour. [...] Once inside, you will be transported to a wallpapered dining room with lots of wood and exposed brick; a handful of carved barnyard critter statuettes arranged artfully on the floor and copper saucepans hanging off the walls alongside the requisite framed-up farmland watercolors. I still can't decide whether the decor here is kitschy or rustic, but once the food arrives, it ceases to matter.
Also on Friend of a Farmer:
Awkward service. Ok food. No farmers. Long lines.

Be sure to decline any offers of poached eggs or you might end up with a slightly wet, mostly raw egg in a bowl. Or maybe that's what you're into. If so I recommend you accept with gusto any offers of poached eggs.

The coffee was pretty good, though.

I would not go back.
[Ed. I actually think this person should be a restaurant critic.]

The Moralist
On a Target in Brooklyn:
I marvel at customers who hold up the line to save their under a dollar discount, "But it said that this was ___ cents cheaper!" and spare no mind to giving said number of cents to a homeless man and pat themselves on the back for being charitable. Just let it go, is my advice.

And so it was on my most recent visit. After about 15 minutes, I was half tempted to buy the lady's Lay's chips just to get her out of line. But the lady said, "I don't play" when arguing with the cashier, so I knew it was probably best to just back up and wait.

Had I attempted and succeeded in buying her Lay's chips, it would have been my second charitable act of the day, as I had already given someone a free subway swipe (I'm on unlimited, but I like to think it still counts). Instead, I went and bought more stuff and hopped in a different line that got me out of the store in under 5 minutes.

Lesson learned? Patience doesn't always pay off and Lay's chips are too expensive?
On Seascapes:
I was tempted to buy a feeder fish as a new pet and to save it's life....
The Absurdist
On a Toys R Us in West Los Angeles:
They had a hula hoop shortage in the Summer section! How can a toy store have a hula hoop shortage? Otherwise, good stock.
On Marv's Deli, Valley Village, CA:
Why can prepackaged meat get 5 stars if it's served from behind an old smiling face?
On Seascapes:
This store for some reason scares me a little. Its not the fish, I've been in tons of pet stores with fish before. Its the lizards they keep in their window. I keep having nightmares that they'll break out and eat us all, even though I'm way bigger than them.
My only complaint would be that the balls are totally out of order!
The Poet
On Scopello, Brooklyn:
okay i dont know where to start but i ordered the special risotto and damnit i was horribly disappointed twice wtf how do u fuck up twice .. risotto is suppose to oozee on your plate not stand up and be over cook im a chef damn-it do insult me please dont i cook for a living dont send me some bull shit please there capriccio was like if lemon took a shit and left a bunch of unfresh bottle lemon juice on my plate not even seared wtf a waist of my time and my life ...ehhh please brooklyn i was born and raise here give me a reason to support this place needs to shut down and by the way the waitress was wonderful im sorry i took 2 or 3 bites and left the whole plate it was offensive but please shut down you guys are a joke seriously
Yelp [Official Site]
Image via Nikolay Mikhalchenko/Shutterstock.com