Do you have any information about the 1990 art heist at the Isabella Stewart Gardner Museum? Do you want $10 million? Well, better talk now.

The New York Times visited Anthony Amore, the museum's director of security, who eagerly awaits your call, provided it's actually worth a damn. The 13 works taken by men disguised as cops—half a billion dollars worth, by a range of artists including Rembrandt and Degas—have never been recovered, and their frames sit on the wall empty. They still want them back so bad that if you provide some actually useful information that leads to the works' recovery before the stroke of midnight on New Year's Eve, you can collect $10 million. Afterward, it drops to $5 million. The Times explains:
The museum doubled the longstanding reward to $10 million in May to underscore its determination to recover the art and set a "limited time only" offer as an added incentive. Since then, dozens of tipsters have called Mr. Amore — most with unsubstantiated theories.

As if on cue during the interview, Mr. Amore's phone rang. It was a man who calls so often with outlandish claims that Mr. Amore has affixed a Post-it note to his phone reminding him not to answer calls from that number.
$5 million is pretty good, but it's no $10 million. That's the working theory, anyway: "It's conceivable that some criminal organization or people might be wishy-washy about the $5 million," Mr. Amore told the Times. "But it's not conceivable that they're feeling the same way about the $10 million."
The search for these paintings has been long, complex, and frustrating. In 2013, the FBI announced that they know who did it, but didn't give their names and they've since died, apparently. No sign of the paintings themselves, though. But the odds of the loot turning up at this late date are actually better than you might think:
In most art thefts, [Amore] said, stolen works turn up either immediately or a generation later, and he is hoping that by now, potential informants _ a jilted lover, an estranged child — might feel safer stepping forward, especially with a huge reward in the offing.
G/O Media may get a commission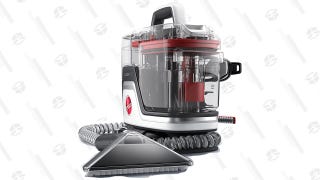 Save $10
Hoover CleanSlate Plus Carpet & Upholstery Cleaner
Anybody got an ax to grind and wants to help the world recover a Rembrandt? Speak up!