This story was in Wednesday's issue of Star. I saw it, but didn't include it in Midweek Madness because its gravity hadn't yet sinked in. It seemed unimportant, I suppose. But here we are, two days later, and I'm in shock! Absolute shock.
Kirsten Dunst (star of the 1999 classic Dick) reportedly broke up with her boyfriend of four years, Garrett Hedlund (star of I never remember), because she's head over heels in love with Colin Farrell.
Writes Star:
According to a source at a low-key LA gym, Kirsten Dunst has been meeting up with Colin Farrell behind Garrett Hedlund's back.

"Kirsten and Colin have shown up together a few times and sometimes he picks her up after her private sessions," spills the spy, noting that Farrell often waits for the actress in the parking lot looking like the cat who ate the canary.
"If they really are just working out together, why act so secretive about it?" a source asked.
This was written before Garrett and Kirsten made their split public, which gives it credibility.

I don't think there's such thing as a "low-key gym" in Los Angeles.

This marks the first time I've seen the phrase "like the cat who ate the canary" in a tabloid.

I believe Star over OK/In Touch/Life & Style. Don't ask why, because there's no good explanation.

Colin and Kirsten's wedding will be the smokiest affair since Mary-Kate and Olivier's.
G/O Media may get a commission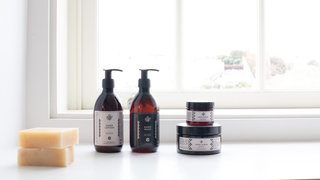 Exfoliate and Hydrate
The Handmade Soap Company
---
Here's something I rarely get to write: let's talk about Jessica Biel, Justin Timberlake, and Lance Bass. These are two separate stories, but I have combined them into one for efficiency's sake.
Story One:
Jessica Biel stars in/produced a movie that premiered at this month's Tribeca Film Festival. It looks bad, but that's not the point. Her husband, Justin Timberlake, composed the score, which technically means she was his boss. Biel discussed this professional relationship with ET, and her quotes provide a surprising amount of insight into the dynamics of their marriage.
Writes People:
As for working with Timberlake, 35, the actress shared that there was no need to "micromanage" him in the process. "He's much better left to his own devices," Biel revealed.

"I mean, I like to say that I was his boss, but I wasn't really acting as his boss. So we had a good working relationship."
What I'm trying to say here is that I think Jessica and Justin are very good friends who eat dinner together in silence.
Moving on! Lance Bass appeared on [the kanceled] Kocktails With Khloe this week and revealed that even though he invited Jessica and Justin to his wedding to Michael Turchin, he and Michael were not invited to Jessica and Justin's.
Writes ONTD:
When Khloe finally pinned him down on whether not Justin had invited him to his own 2012 wedding to actress Jessica Biel, he smiled as he said: "Everyone always asks that... and here's the real answer - no! We were not."
I refuse to believe that Lance and Michael missed a good time.

---
I'm not normally one for, like, GIFs as commentary, but in this case, I can't think of a better way to respond. So.

Minka Kelly and Sean Penn are dating, and my advice to Minka is:

[ONTD]

---
---
Images via Getty.