If the hands are a basic tool for expressing emotion, a set of acrylic nails is kind of like a cordless lithium-ion SDS 3-Mode rotary hammer—the job gets done faster and more powerfully, if also a bit more loudly.
In the latest evidence of this, gigantic fake nails brought a glittering, sassy sensuality to 20-year-old Canadian figure skater Gabrielle Daleman's performance in the ladies single free skating event on Sunday night. It is strange to me that every figure skater on earth has not opted to glue these immense fuckers on, since it's not like they have to use their hands for anything except elegant wrist movements and gestures of humble gratitude. Hello, why not?! You guys are wearing sparkly kerchief-dresses already, please don't act like you're above it?
It's undeniably the case that her formidable skills—not her enormous rhinestone-dotted talons—won Daleman the bronze on Sunday night, clinching Canada's gold medal in the team figure skating event, but my own personal experience as a viewer was enhanced immensely, every flick and pop accentuated by a set of nails as physically impractical as the sport itself. Please appreciate this along with me:
G/O Media may get a commission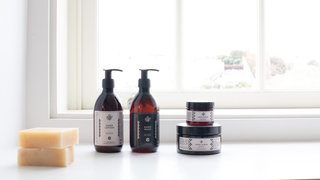 Exfoliate and Hydrate
The Handmade Soap Company
Ugh! Bye, I'm going to the salon.