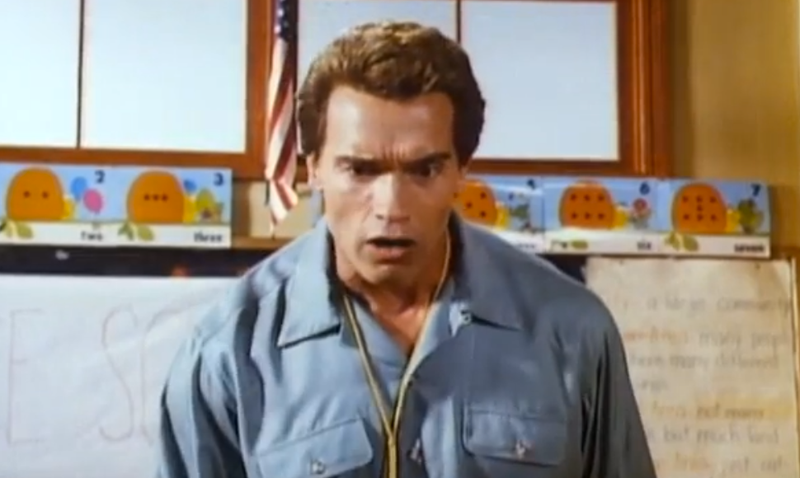 Every time I hear about a movie remake, I find the nearest inanimate object and hurl it across the room. I need to stop doing that because no matter what, those remakes keep coming out like diarrhea and I'm just putting more dents in my walls. The latest film to be coming out of the Hollywood reboot factory is Kindergarten Cop, which starred Arnold Schwarzenegger as a tough cop who had to go undercover in an elementary school.
In the original, Schwarzenegger played John Kimble, a police detective searching for the ex-wife and son of a drug dealer and ends up posing as a kindergarten teacher. According to Entertainment Weekly, Universal has confirmed a remake of the 1990 comedy, but has changed the plot so that the lead cop "will be paired with an Indian sidekick named Sanjit. Instead of hunting down a criminal's ex-wife, it's tracking down a lost flash drive…that finds its way to a kids' classroom."
The remake is being produced by Universal's 1440, their home entertainment division, so this isn't going to be marketed as some sort of huge blockbuster hit—it's going straight to DVD. This also means we probably can't predict that The Rock will be stepping in the shoes of Arnie Schwarzenegger's old role, like he's rumored to be doing for Kurt Russell's character of Jack Burton in the remake for Big Trouble in Little China. Paint chips are still coming off the wall from when I found out about that one. I'll just start reacting to these reboots by putting myself into a catatonic state and staring into space.
Image screencap via YouTube.
---
Contact the author at marie.lodi@jezebel.com.