The Kimye Vogue cover we, as a nation, always deserved is finally upon us. In this week following its arrival we're getting treated to a bevy of beauteous gems: several media studies theses have already starting writing themselves because of this photo of Kanye taking a photo of Kim taking a photo of herself in a mirrored room in which no one has a reflection; Kris Jenner makes in appearance, in an image that's quite possibly inspired by Goya's "Saturn Devouring His Son"; and then there is the text itself.
Fig 1.: Saturn Devouring His Son vs. Kris Jenner Using a Concerned-Seeming Infant As a Prop In Order To Appear in Vogue.
It's a bit of a predicament: how do you compellingly profile someone who is profiled 24/7 in the media — someone like Kim Kardashian and her extended family, who've turned being overexposed into an industry in its own right? The answer, in Hamish Bowles' masterful hands, is "very fancifully." And thus the mundane grumblings of America's Most Reality TV-est Family (plus Kanye) become gushing, radiant prose.
G/O Media may get a commission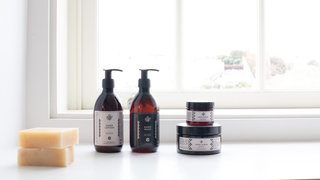 Exfoliate and Hydrate
The Handmade Soap Company
The opening two paragraphs are the most beautiful thing I've ever read:
The fast-cooling Los Angeles afternoon air is filled with the scent of eucalyptus and mimosa, the gurgle of water as it tumbles down a fountain wall into a picture-perfect azure pool, the exultant strains of Pharrell Williams's "Happy," and a chorus of "Old MacDonald Had a Farm," performed in unhappy a cappella by Annie Leibovitz and Kris Jenner.
The frantic warblings of this unlikely duo are intended to entertain the geographically named North West, perched between her father, Kanye West, creative polyglot, and his fiancée, North's mother, Kim Kardashian, cultural phenomenon — or Kimye, as the media has dubbed the telegenic pair while it relentlessly tracks their every move.
"CREATIVE POLYGLOT WEDS CULTURAL PHENOMENON IN STUNNING CEREMONY ATTENDED BY GEOGRAPHICALLY NAMED INFANT." This is the zenith of English prose.
Even very banal things that every human does, when filtered through the double lens of Kimye and Vogue, become remarkable and strange rituals. Take, for example, this sentence about Kanye taking a funny video on his iPhone:
Kanye, meanwhile, has made an adorable little stop-frame video of North caught in her natural movements that he's edited to make it appear as if she's break-dancing.
And this sentence, which reads like something out of an epic poem (or, at the very least, an exquisite Lord of the Rings fanfiction):
"Anybody need anything?" asks the agelessly glamorous, apricot-skinned Kris, fluttering eyelashes as thick, long, and lustrous as a hummingbird's wings. "Water? Vodka? Get on my train!"
"Anybody need anything?" coos the resplendent matriarch — upon whose illustrious visage the rose-hued fingers of Aurora tremble tremulously, as if afraid to disturb the glowing serenity — from beneath a lustrous crown of ebony-hued locks that fall casually like feathers plucked from Odin's ravens. "Water? Vodka?"
Occasionally a little whiff of "hmmmph" wafts through the piece, as when Kim says that she and Kanye sometimes spend six to eight hours on the phone. "These freewheeling conversations must be riveting: The couple have such different takes on the world," writes Bowles. Different takes! What does that mean? Well, um, here's Kim on interior design:
"I'm obsessed with cozy."
And here' s Kanye:
He is working on the Paris apartment he has had for two years with Oana Stanescu, as well as Joseph Dirand, the design comet whose commercial projects include store concepts for Alexander Wang, Balmain, and Rick Owens, and who, in Kanye parlance, "killed it" with his Deco-fabulous scheme for Monsieur Bleu, the eatery of the moment at the Palais de Tokyo. Dirand "taught me about Corbusier and Jeanneret and Parriand," says Kanye...
In other news: regarding the wedding, we don't learn much more (outside of the mass of information about the Kimye wedding we've already consumed). The profile mentions that Kanye proposed to Kim in a stadium (DID YOU KNOW?) and they want to have the wedding in Paris (SURPRISE!!!). Contrary to some tabloid rumors, Kanye is not Groomzilla'ing and demanding that Kim wear some weird conceptual bridal mask by Maison Martin Margiela, paired with a leather cape by Rick Owens: "Let her live; it's her dress," Givenchy designer Ricardo Tisci tells him, adding in an aside to Vogue, "I'm very feminist, very 'sister' in that way!"
As one might expect, Kanye sums the entire thing up best, in a very Kanye-esque (optimistic, philosophical, matter-of-factly self-aggrandizing) manner:
"It's really interesting that we're on the front lines of a few different concepts at the same time. You've got the interracial thing; you have the mega-media and mega-art crash; you have, you know, the Vogue-and-reality show combination. There's a lot of new frontiers being broken in 2014...

That's what the world is. That's the future, the melting pot, crashing sensibilities together... [Kim] created something really powerful that the universe connected with, and I created something that people connected with, and when we combine our information... We can help communicate and educate and just bring out more dopeness in general. It's really just about dopeness at the end of the day."
KIMYE IS THE FUTURE WE ARE ALL CAREENING TOWARD. Q.E.D.
Images via Vogue.