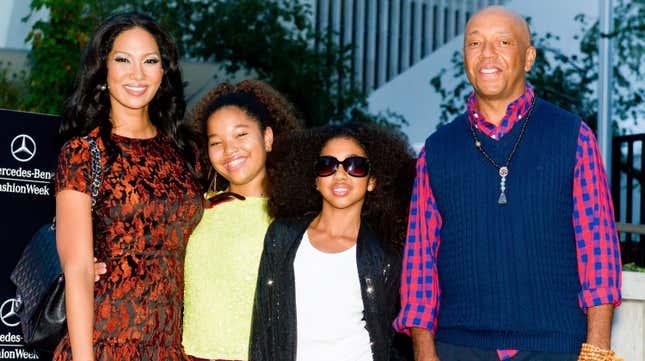 Father's Day for the Lee Simmons family was particularly fraught this year, after each member—Kimora Lee Simmons, Aoki Lee Simmons, Ming Lee Simmons, and Russell Simmons—aired some pretty serious familial drama on social media.
The back and forth's begun when Ming, Kimora and Russell's 23-year-old daughter, posted a story on Instagram on Sunday wishing her mother a Happy Father's Day. On Monday, Russell posted and then deleted, "Stop telling fathers they should have fought harder to see their children & start asking mothers why he had to fight at all."
Following that, Kimora shared a series of stories with the follow text:
I'm so sorry to have to do this. But this man has been threatening my kids' lives. I'm hearing so much more now. We won't be bullied threatened or afraid. Who gaf?

Leave my kids alone. This narrative of attacking the only caregiver, the only parent in the home with the kids, the mom, AND the kids for one's own shortcomings and embarrassments is dead. Dead. Dead.

The same abusive ish. This is how you manouver [sic] with the women all around you. Your threats and lies and intimidation manouvers [sic] and tactics are sad. Stop it please. Your own flesh and blood? Enough is enough."

Interspersed in Kimora's stories were screenshots of texts between Aoki, 20, and her father that Aoki had shared on her own Instagram account. Alongside those texts, Aoki wrote, "I have always always shown up for my dad as a daughter can. I have always been in his corner." In another story, she posted a photo of her and her father when she was a child, writing "I did the best that I could." She also shared a screen recording without sound that appeared to show Russell screaming at her as she cried. Both Kimora and Aoki also went live on Instagram to further explain their side of the story.
Russell and Kimora were married in 1998 after six years of dating. They began dating when Kimora was still in high school and Russell was in his mid-30s—something she addressed in her Instagram live. Since their divorce in 2008, they had been on relatively good terms, but in recent years things have soured, especially after he took her to court in 2021, alleging fraud.
In her posts, Aoki explained that her dad's behavior has radically changed in the past few years. "Some of us do think he's mentally ill or experiencing something like dementia," she wrote. "He really acts like he hates and does not know his children frequently."
Aoki commented on her mom's Instagram live: "We tried to keep it private. He literally taunts and bullies us every single day."

During her livestream, Kimora also discussed coming to her ex-husband's defense over the years. "I'm always the one who kind of puts out the fire," she said. While she didn't explicitly say so, it appears that she's referring to her support of Russell after over a dozen women accused him of sexual assault. Between that mention, and a reference to their age difference, it seems like Kimora was trying to cite the power imbalance in their relationship as why she's often defended him.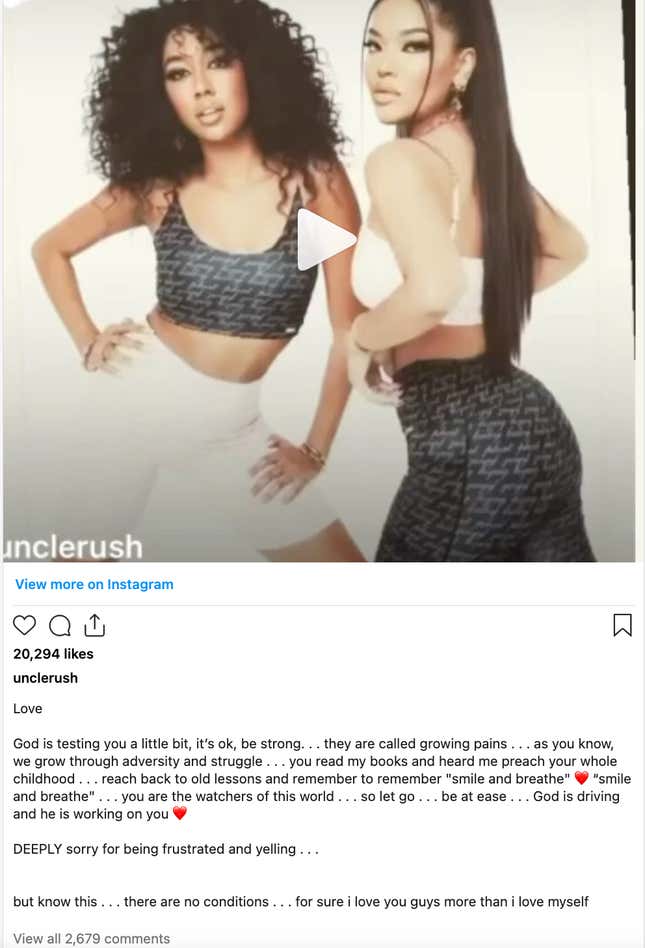 After all of this, Russell then posted a now-deleted Instagram photo (above) of his daughters, saying he was "DEEPLY sorry for being frustrated and yelling." Kimora, Aoki, and Ming's posts allude to behavior that feels much graver than just yelling and frustration.
This is clearly a deeply messy situation, with all sides using social media to air their grievances. But if Aoki and Kimora's allegations of constant taunting and bullying are true, that might be enough to drive someone to make something public in an attempt to make it stop.